McKinney's near triple-double lifts Mustangs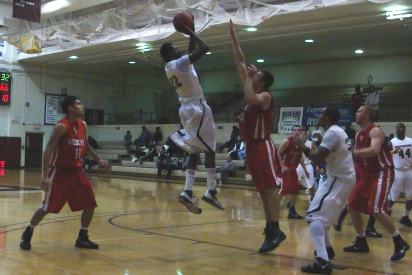 UNIONTOWN, PA-Coach Donahue and the Mustangs will live to play another day at the 2010 Men's Division I USCAA National Championship Tournament. The team will now play tomorrow at 2pm for fifth place (lost fifth place game in 2009).
A 77-72 victory over the Eagles of Robert Morris-Springfield earned the return trip to the fifth place game.
Junior forward Justin McKinney (Detroit, Mich./Mumford) came up one assist shy of a triple-double with 21 points, 11 rebounds, and 9 assists. The monster game played a major factor in the Mustangs' success against the #5 ranked Eagles.
Making his name known in the USCAA, McKinney was also named Honorable Mention All-American for the second straight season. The 6'6″ all-around player will look to lead his team to a fifth place victory to avenge last season's season-ending loss in the same game.
Three other Mustangs followed McKinney in double-figures: Chris Sinagoga 15, Marcus Hopkins and Eric Johnson 12 points each.
The Mustangs will tip-off at 2pm Saturday against #7 Northern New Mexico College. The game could possibly be a look into one of next year's A.I.I. Conference Tournament games as the Eagles from Northern New Mexico will be eligible for competition in 2010-11.
Follow the Mustangs final game of the season with LIVE STATS – 2pm Saturday.