Newberry Commits to Mustangs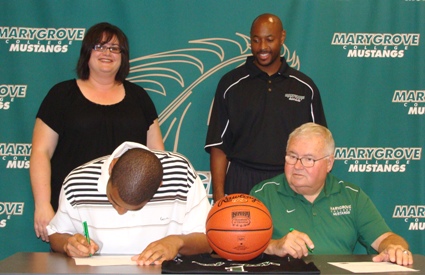 DETROIT, MI–The Mustangs gained valuable size on Thursday when they signed their second student-athlete of the day. Rochester High School big man Keith Newberry inked a letter of intent after being heavily recruited by the Mustangs for months.
Newberry, a 6'7″ forward/center, caught the attention of the coaching staff after high recommendation from his high school assistant coach Andrew Topie. After that, the Mustangs needed only one look at the promising big man to know he was right for the program. Newberry's breakout game of 23 points against Romeo in the district finals of his junior year was just the beginning of what was to come. Becoming a well-rounded player in the post, Newberry averaged a double-double (12 points and 10 rebounds) during his senior campaign. The impressive season would land Newberry team MVP and All-OAA honors.
Coach Donahue on Newberry: You are excited as a coaching staff anytime you sign a player with his size and talent. Keith is an excellent young man that came to us from a well-coached environment at Rochester High. He gives us the size and flexibility we were looking for at the forward position.