Thompson Inks 2010 Letter of Intent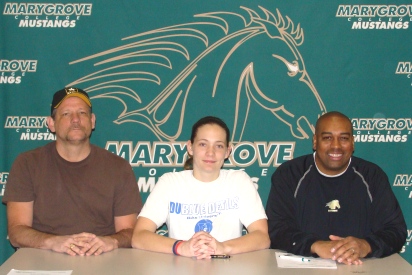 DETROIT, Mich.-The Mustangs addressed a huge need for the 2010-11 campaign with the signing of Wyandotte Roosevelt's Amelia Thompson to a letter of intent.
Thompson, a 6'1″ versatile guard/forward, adds much needed depth to a currently undersized Mustangs team. The two-year varsity starter helped lead her team to a 2008-09 District Championship in her junior season.
Thompson's favorite sports moment was hitting a shot that most high school student-athletes don't get to fall. The 6'1″ athlete nailed a buzzer-beating half court shot to put her team up by one going into the halftime break.
Coach Hitchcock on Thompson: Amelia brings us a dimension we didn't have last season. Her height will help our rebounding numbers and aid in defending the oppositions' bigs. Our coaching staff is pleased to sign Amelia to the 2010 class.