Mustangs Sign Kellogg Transfer Baker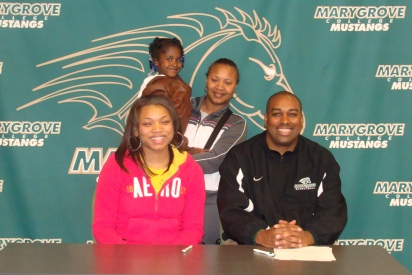 DETROIT, Mich.-The Lady Mustangs continued the rebuilding process on Thursday with the signing of Shantinique Baker. The former Kellogg Community College standout inked a 2010-11 Letter of Intent inside the Wellness Center at Marygrove College.
Baker, a 5'9″ guard/forward, is headed to Detroit's northwest side to attend Marygrove College this fall. She brings with her a bevy of college basketball experience as a two-year player for the Bruins of Kellogg Community College. Baker coupled that experience with hard work as she cleaned the glass en route to leading the Bruins in rebounding last season.
The athletic swing player days in high school started as a starting guard at Detroit's Cass Tech High School before transferring to Westland to start as forward for the John Glenn Rockets. As a senior, Baker helped lead to her team to success in districts. Shortly thereafter, she joined the Rockets' track & field team to cap off an excellent high school athletics career. "I'm happy to be back home in Detroit and I look forward to playing for Marygrove next season," said Baker at today's signing.
Coach Hitchcock on Baker: Shantinique is a great young lady that has a passion for the game. Her previous college playing experience will be a major asset to our program next season. We look forward to a successful season with Shantinique and our other recruits in 2010.