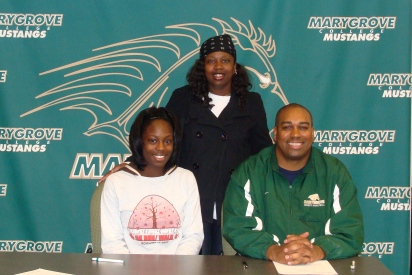 DETROIT, Mich.-The Lady Mustangs used "addition by subtraction" with the signing of Flint Central's Candice Minus. The former hardwood standout for the Phoenix of Flint Central High School will join the Mustangs next year.
Minus, a 5'4″ point guard, earned many accolades during her high school playing days. Ending on a positive note, the determined point guard earned a list of honors after her senior season was complete. Minus averaged 12.4PPG (#3 in Flint – PPG) en route to a spot on the All-Genesee Team. Her stellar play also landed her Second Team honors All-Saginaw Valley and Second Team All-City.
"I look forward to playing with Marygrove next season. I'm happy to be a part of the program and I am looking forward to having a successful season," said Minus at her signing in Detroit.
Coach Hitchcock on Minus: Candice is a natural scorer that will give us another weapon on offense. She comes from a very competitive conference that should give her decent experience for the small college level of play. I am glad to welcome Candice to the Mustang Family!