Corrothers Comes to Marygrove College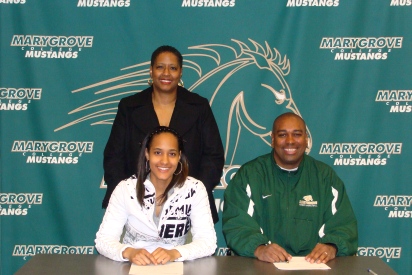 DETROIT, Mich.-On Saturday, the Lady 'Stangs added experience when Owens Community College transfer Kaila Corrothers signed a 2010-11 Letter of Intent. The signing continued the rebuilding efforts by the Mustang coaching staff for the 2010-11 season.
Corrothers, a 5'7″ athletic two-guard, comes to Marygrove as a leader after being captain of her high school and community college teams for the past few years. The leadership, combined with plenty of talent at the guard position, led to team MVP and defensive player of the year honors at Consortium College Prep High School. She also helped lead her team to a regional championship at Consortium as well.
Coach Hitchcock on Corrothers: We are very pleased to sign Kaila. She has displayed a great passion for the game over the past few years. Kaila will bring plenty of talent and length at the guard position which is a plus for our style of play.