Duo from GR Ottawa Hills Sign with Mustangs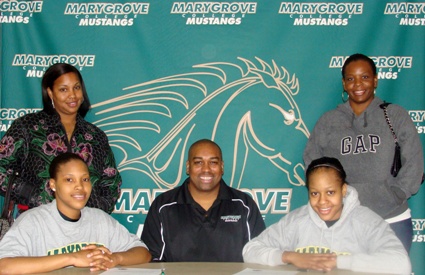 DETROIT, MI–Arielle Edwards and Dominique Gordon, both of Grand Rapids Ottawa Hills High School, signed Letters of Intent on Saturday, March 28. The two Ottawa Hills standouts will be heading east to play women's basketball for the Mustangs this fall.
Edwards, a 5'8″ guard, is a multi-talented forward with exceptional athletic ability. Edwards, winner of Ottawa Hills team MVP and Coach's award, is a fierce defender that works hard every play. She averaged 12.5 PPG her senior year.
Gordon, 5'5″ guard, tabbed All-City (Grand Rapids) in 2007-2008, was recently named Ottawa-Kent Gold All-Conference for the 2008-09 season. She topped the 20 point mark several times on the season, including a 27 point effort against South Christian, on her way to a 13.5 PPG average this season. Gordon is also a McDonald's Scholar-Athlete.
"Coming from a powerful conference, both girls will bring a lot to our program for the next four years. Dominique is a scrappy point guard that will see major minutes as a freshman. Arielle is an outstanding athlete. Her defensive prowess will fit well within our scheme," said Women's Coach Tony Hitchcock of the two Ottawa Hills recruits.