Women's Soccer Adds Mott's Bicoll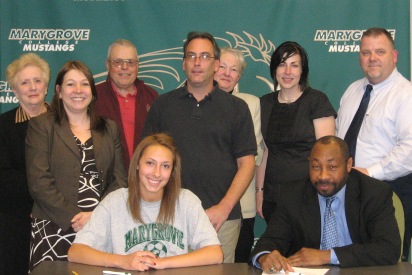 DETROIT, Mich.-On Tuesday, the defending national champion women's soccer team added their second Warren Mott commitment in as many years with the signing of Paige Bicoll – senior captain for the Marauders.
The Marauder-turned-Mustang will join Janina Velasco (Warren Mott – 2009) for the second year of women's soccer at Marygrove College.
Bicoll, a 5'5″ talented center midfielder, was referred to Marygrove by her head coach Al Velasco (father of current Mustang – Janina Velasco). Her three years of experience at the varsity level should translate well to the collegiate game next season. A well-rounded athlete, Bicoll also played volleyball (junior varsity) and was named team MVP, best passer, server, and striker.
Exemplifying the true meaning of a student-athlete, Bicoll comes to Marygrove with an excellent high school GPA and was recently awarded a Presidential Scholarship to attend Marygrove College next fall. The strong academics also landed her spots on the Macomb Athletic Conference All-Academic Team all four years.
Coach Williams on Bicoll: Paige is a dynamic athlete that plays with toughness. She comes from an excellent system that has produced many fine players over the years. I expect Paige to compete for a starting spot in the fall.