Men's Soccer Continues Hot Streak, Signs Bushi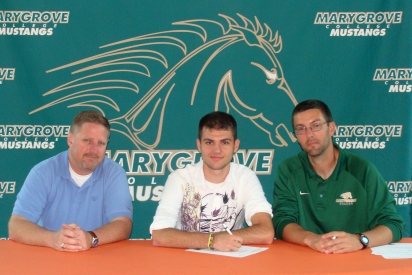 LINCOLN PARK, Mich.-On Friday, men's soccer signed Lincoln Park High School's Dorian Bushi to the Mustangs in 2010. The signing was one of many over the past week for the second year Mustang men's soccer program.
Bushi, a four-year varsity player, comes to Marygrove after a polished high school and club career. The 6'0 forward began his high school career by leading the Lincoln Park Railsplitters in goals his freshman season. He followed that effort by leading the team in assists at the conclusion of his sophomore campaign. The season also ended with All-Conference Honorable Mention honors.
As a junior, Bushi elevated his game to new heights after being tabbed All-District and All-League. He would later mirror those accomplishments in his final season as a Railsplitter. Bushi has also tasted plenty of team success. His assist-laden sophomore season helped the Railsplitters take home the Mega Conference Championship in the 2007-08 school year. His team also to the district semifinals in his sophomore and senior seasons.
Bushi's club experience (3 years) is with the widely respected Michigan Rush. Currently, the Rush rank 2nd in the Premier II standings.
Coach Johnson on Bushi: Dorian is a skillful player who will be looked at to push for playing time in a variety of roles. I look for him to become a leader on the field for us from the moment he steps on campus.