Rowe Runs His Way to Marygrove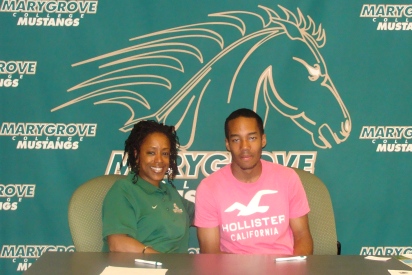 DETROIT, Mich.-Marygrove signed two Southfield standouts in one day? Yes, that is what happened inside Marygrove's new Fitness Center on their northwest Detroit campus. Romeo Rowe, senior from Southfield High, signed a 2010 Letter of Intent to run cross country and track for the Mustangs next season.
Rowe signing immediately followed high school friend and teammate, Victor Gullatte. The pair will come to Marygrove to compete in cross country and track & field over the next four years. For Rowe, his best accomplishments were in the 400m and 800m races. The former Leadership Award winner for the Boys to Men Program scampered his way to a 53.0 time in the 400m, while achieving a stellar 2:17s time in the 800m. Rowe will be joining Think Detroit Pal Elite later this year.
Coach Womack on Rowe: Romeo comes to us as another fine Southfield talent. The young men and women of the Southfield district are well-coached and deserve to make it to the collegiate level. I am exciting to add Romeo to our program and look forward to coaching him in the fall.