Mustangs Advance to Championship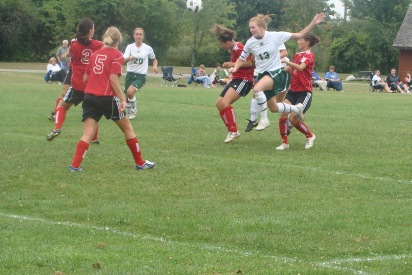 HAMMOND, Ind.-The Mustangs opened up the 2010 Crimson Wave Invite (hosted by Calumet College of St. Joseph) against the Tigers of Iowa Wesleyan College. The winner would move on to face host Calumet for the championship on Sunday.
Nicole Polite (Schoolcraft College/Sterling Heights, Mich.) was able to get the Mustangs out of their scoring drought with a goal off of a free kick in the first half. After going up 1-0, the Mustangs continued their attack as they fended off a physical Tiger team.
In the second half, second-year Mustang Ashley Inglsbee (Oakland Community College/Waterford, Mich.) slipped free from the defenders for a breakaway goal.
Iowa Wesleyan flirted with a late comeback with a goal in the 82nd minute. However, the two goal effort would be enough for the Mustangs to tame the Tigers, 2-1.
The win lifts the Mustangs into tomorrow's championship game of the 2010 Crimson Wave Invite. The host Crimson Wave will hit the pitch against the Mustangs at 3pm EST tomorrow.