Mustangs Win Crimson Consolation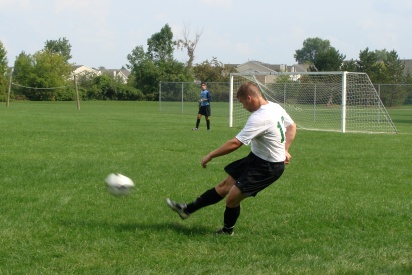 HAMMOND, Ind.-The men's soccer team pulled their record to .500 after a 2-0 win over the Tigers of Iowa Wesleyan College. The consolation game victory led the Mustangs to a 3rd place finish at the 2010 Crimson Wave Invite (Calumet College of St. Joseph).
A day after suffering a 4-0 setback, the Mustangs got on top early with a 15th minute goal by Jordan Berry (Crestwood/Dearborn, Mich.). Talented newcomer Jad El-Zein (Fordson/Dearborn, Mich.) was credited with the assist on the play.
Little time was wasted before the Mustangs put the Tigers in a tough 2-0 hole. In the 26th minute, El-Zein beat the Tigers netminder after receiving the assist from Matt Parent (Schoolcraft College/Livonia, Mich.) and Berry.
The 2-0 lead was all goalkeeper Alex Dubetz (Royal Oak HS/Royal Oak, Mich.) needed to secure a 3rd place finish for the 'Stangs. In all, Dubetz stopped 7 Tiger shots in the 2-0 shutout victory.