Volleyball Splits Day One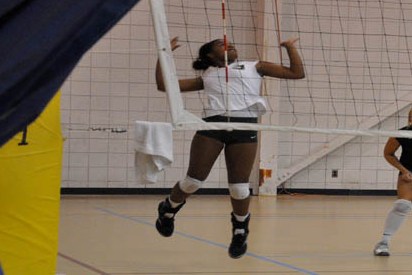 DEFIANCE, OH-The Mustangs (4-11) entered the 11th Annual Defiance College Invitational with high hopes after improved play as of late. The opportunity to climb towards .500 was there with two games on the docket Friday.
Defiance Gold (JV) stood opposite of the Mustangs in game one of the two-day tournament. The Mustangs, fresh off a successful weekend at the USCAA Early Bird Invite, carried their momentum over for a straight set (25-23, 25-15 and 25-17) victory.
Game two placed the Mustangs against an instate NAIA foe, Siena Heights University. A valiant effort from the youthful Mustangs was not enough to topple a strong Saints squad. The neutral site game would end in the Saints favor in three straight 25-19, 25-22 and 25-13.
Jalissa Favors (Southfield, Mich./Southfield) continued her strong play as of late leading the Mustang charge. She was followed by Shannon Pietruszka (Garden City, Mich./Garden City) and Desiree Redding (Southfield, Mich./Lathrup) who had impressive days as well.
The Mustangs will hit the court tomorrow morning at 9am against a far-too-familiar foe, Lourdes College, who own a 2-0 edge in the season series. The 9am game will conclude pool play for the Mustangs. From there, they will await final seeding for the playoff round beginning at 1pm.