Cardinal Kick-Off Day One Recap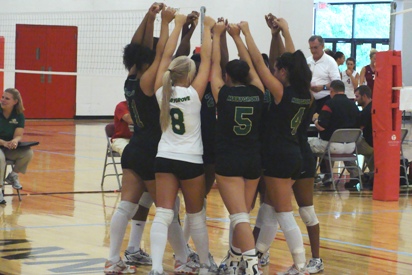 DETROIT, MI–The inaugural matches of Mustang Volleyball are in the books after day one of the Cardinal Kick-Off Classic. Coach Graves and the Mustangs showed promise against veteran programs Purdue North Central and Ohio State-Marion, but eventually fell in both (0-3; 0-3).
The Panthers of Purdue North Central would be the first opponent at the Cardinal Classic, as well as the first opponent in program history. The neutral court matchup favored the veteran Panther squad as the Mustangs took a little while to adjust to the speed of the game. Refusing to go away quietly, the upstart Mustangs rallied off six straight points in game one to draw closer to the favored Panthers. Flashes of brilliance would appear once again in game three as Coach Graves' squad battled back and forth before falling. In the end, the Panthers would take the match (3-0).
Remaining upbeat after a season-opening loss, the Mustangs hit the court to square off against the Scarlet Wave from Ohio State-Marion. The Mustangs second match of the Kick-Off Classic produced three competitive games and many Mustang highlights. Holding leads in nearly every game, the Mustangs proved they can hang with other programs across the country. However, experience would prove to be a deciding factor as the Scarlet Wave rattled off three wins and beat the Mustangs (3-0).
Day two of the Cardinal Kick-Off Classic begins tomorrow (Saturday) at 9AM when the Mustangs take on Ursuline College (OH). The weekend will close with a 1PM match against host Concordia University.