Polite Named USCAA Player of the Week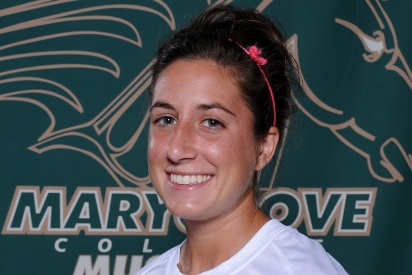 DETROIT, Mich.-Marygrove's Nicole Polite (Sterling Heights, Mich./Schoolcraft College) has been awarded USCAA National Player of the Week (POW) for the week ending 09/12/2010.
In only four games with her new team, the junior transfer quickly elevated an already potent Mustang attack. A two-goal performance at the 2010 Crimson Wave Invite last weekend catapulted Polite's game into the national spotlight en route to earning USCAA POW. On Monday, the reigning national POW will attempt to take down USCAA rival Rochester College when the Mustangs host the first home game on-campus at Marygrove College.
Congratulations Nicole on being named USCAA Player of the Week!