Mustangs Valiant Effort Falls Short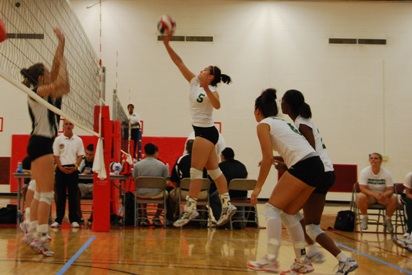 DETROIT, Mich.-The Mustangs slipped to 8-17 on the season after a hard fought 5-set battle against Ursuline College. In the fifth set, the Mustangs fell four points shy of upsetting the NAIA-turned-NCAA Division 2 accepted candidate.
The win would have easily been the best in the history of the young program.
After dropping the first two sets to the host Arrows, the Mustangs used a strong two-set rally to even the match at 2-2. Sophomore Elizabeth Lerczak (Hale, Mich./Hale) was summoned to serve when the fourth set knotted up at 24-24. Lerczak served an ace to take the one-point advantage, and then served up the game winner with a ball that the Arrows mishandled on the initial pass. The two points allowed the Mustangs to force set number five.
In the fifth, the Mustangs ran out of steam after an emotional comeback to force the Arrows on their heels. In the end, Coach Graves and the 'Stangs lost the last set 15-11, but boarded the bus home knowing brighter days are ahead after another valiant performance.
Next week, the Mustangs are set to play hosts three nights (Tuesday, Thursday and Saturday). On Tuesday, a home tri-match will be played at the Eastern Michigan University Convocation Center. Details about the match are yet to be released. Thursday will showcase a one-on-one matchup at UD Jesuit (7pm). A 9am Saturday quad match at UD Jesuit is slated as the conclusion of "Volleyball Week" at Marygrove College.