Mustangs Put the Sting to Yellow Jackets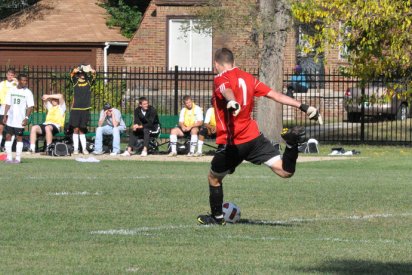 DETROIT, Mich.-The Mustangs climbed within one game of .500 this season with a convincing 2-0 home victory over NCAA Division III Defiance College. The visiting Yellow Jackets looked for a men's/women's sweep a day after the Lady Yellow Jackets topped the Mustangs, 1-0.
The dominating performance may be an indicator that the Mustangs are ready to make their ascent in the USCAA and A.I.I. (NAIA) polls. Winning 2-0 against a NCAA opponent will help, but the Mustangs must now focus on their upcoming games to attempt their run at a potential national championship invite.
Against Defiance, the Mustangs managed to outshoot their opponent 20-11 (11-6 SOG). Sophomore striker Jordan Berry (Dearborn, Mich./Crestwood) used one of his team-high three shots on goal to beat the Yellow Jacket keeper to give the 'Stangs a 1-nil advantage.
From there, newcomer Ahmed Almosawi (Dearborn, Mich./American Muslim Academy) put the game away with a 71st minute goal that found the back of the net for the 2-nil victory.
Freshman Caleb Szukhent (Birch Run, Mich./Birch Run) was a sparkplug off the bench contributing two shots on goal.
Alex Dubetz (Royal Oak, Mich./Royal Oak) earned another shutout in net with 7 saves.
The Mustangs hit the road later today to square off against instate foe, Andrews University. A win would put the Mustangs at 6-6 heading into the final three weeks of competition this season.