Volleyball Week in Review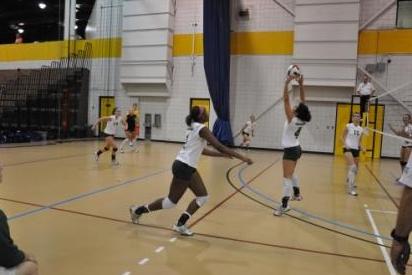 DETROIT, Mich.-The Mustang women's volleyball team gritted their way to a successful weekend 3-3 to help their postseason dreams stay alive.
Last week's .500 record was positive due to the fact that the Mustangs defeated a fellow USCAA opponent (Robert Morris-Springfield) and a NAIA opponent (Indiana University Northwest). The two wins could be enough to impress the pollsters one last time before the final rankings come out next week.
WEEK IN REVIEW
On Thursday, the Mustangs stared down a tough tri-match at USCAA rival, Rochester College. The host Warriors also welcomed WHAC powerhouse Aquinas College to add to the degree of difficulty. In the end, the 'Stangs battled hard but fell short in two straight matches.
Friday's originally scheduled tri-match at Kuyper College was demoted to a single match versus the host institution. The Mustangs were able to make quick work of the Cougars behind a 32 kill, 8 error night in the 3-0 affair (including a dominating13 kill, 1 error set two).
On Saturday, the team traveled to Sylvania, Ohio for a tournament at Lourdes College. A 2-1 day would put the women in great spirits after defeating NAIA and USCAA schools. The lone Saturday loss would be at the hands of the host Gray Wolves (Mustangs are 0-4 vs. Lourdes this season).
NOTABLE WEEKLY STATS
Jalissa Favors – 36 kills…Jaci Michetti – 34 kills…Nicole Rodgers – 33 kills…Megan Gohl – 122 assists and 15 service aces…Shannon Pietruszka – 81 digs…
NOTE: Assistant Coach Michael Love assumed head coaching responsibilities on Saturday replacing head coach Karen Graves who was being inducted into the Concordia University Ann Arbor Hall of Fame.