Birch Run's Nail Signs Letter of Intent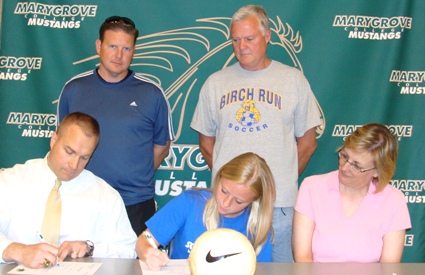 DETROIT, MI–Women's Soccer Coach Tony Williams signed his second student-athlete (third overall) in as many days on Tuesday afternoon. Birch Run High School's Laura Nail became the third student-athlete to join the Mustangs inaugural class.
Nail, a 5'2″ center-midfielder, is a skilled player who made a reputation for herself in the Flint area as a threat anytime she stepped on the field. Over the course of a successful playing career, Nail compiled awards such as: Honorable Mention All-Conference in 2007, Second Team All-Conference and All-District in 2008, four-year varsity captain and Team MVP. She highlighted her career with an impressive four goal-two assist game (school record) on her way to a total of 18 goals and 13 assists during her final two years of high school play.
Shining a bright light on the upstart women's soccer program, Nail is also a recipient of a Presidential Scholarship to attend Marygrove College in the fall. She becomes the second women's soccer player to receive the distinguished scholarship out of only a handful of recipients campus-wide. Her intended major is Physical Therapy.
Coach Williams on Nail: Laura is currently a center-midfieler, but I feel she can play outside back or outside midfield in our system. She is a smooth player that will fit well into our system immediately. Her versatility will be key to our success next year.