Mustangs Rock Rochester, 3-0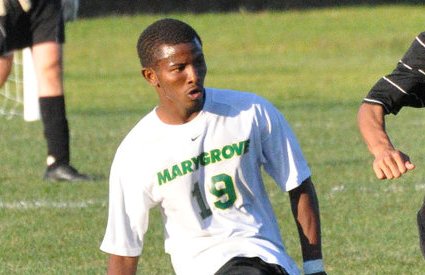 PONTIAC, Mich.-If you were to ask a men's soccer player if they were focused on beating the Warriors you would have received an overwhelming YES! The Mustangs, looking to avenge to losses to the Warriors last season, knew everything was at stake heading into Wednesday's rivalry matchup.
Strike early, strike often must have been the battle cry heading into the game because the 'Stangs followed through. Another early goal allowed the Mustangs to climb on top of the host Warriors, 1-0. Usual suspect Jordan Berry (Dearborn, Mich./Crestwood) fired a shot past a frozen Warrior defender for the game's first tally. Sophomore Huss Seklawi (Dearborn, Mich./Fordson) earned the assist on the play.
The game would remain 1-nil through halftime where the Mustangs made adjustments that would eventually put the Warriors away.
Mamadou Diallo (Detroit, Mich./Southwestern) got the second half scoring underway when he knocked in his third goal of the season off the rebound. Shortly thereafter, sophomore transfer Matt Parent (Livonia, Mich./Schoolcraft College) sent a ball off a host of Warriors for his first goal as a Mustang. The two goals would lead to the eventual final of 3-0.
Once again, Alex Dubetz (Royal Oak, Mich./Royal Oak) played tough in net earning the shutout.
The Mustangs will now wait to see if the impressive list of 9 wins is enough to impress the pollsters of the USCAA. Sitting underrated at #15, the Mustangs must hope that their recent success wakes up the voters and sends them to nationals. Best of luck Mustangs!