Vermont? Mustangs Inch Closer to Defending Crown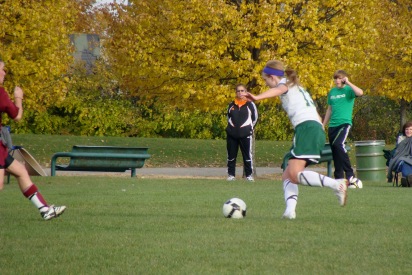 ADRIAN, Mich.-Entering Wednesday, the Mustangs knew they had to come away with a win or tie against Adrian College to keep their USCAA National Championship hopes alive. The team, hungry to return to Vermont to defend their title, went into Adrian with a playoff  "do or die" attitude that set the tone early on.
Sophomore Ashley Inglsbee (Waterford, Mich./Oakland Community College) bent a brilliant strike around the Bulldogs keeper to give the Mustangs an early 1-0 lead. The goal came from a near impossible angle as Inglsbee put just enough spin on the ball to sneak it past the keeper.
Junior transfer Nicole Polite (Sterling Heights, Mich./Schoolcraft College) was credited with the assist on the play after crossing the ball to Inglsbee. The score would remain 1-0 through halftime.
In the second half, the Mustangs were able to hold off the NCAA D3 Bulldogs (9-4-2) until the 55 minute mark when they struck from 23 yards out to bring the game even at 1-1. From there, both teams would bunker down and not allow the other too many chances down the stretch.
Perhaps the best scoring chance came when freshman Kaylie Guellec (Waterford, Mich./Kettering) attempted to redirect a pass into the net as time expired. The Mustangs continued their strong play into overtime where the two teams would end in a 1-1 tie after two overtime periods.
Freshman keeper Kristen Jolly (Livonia, Mich./Clarenceville) turned away 14 Bulldog shots to help preserve the 1-1 tie.
The tie should be enough for the Mustangs to make a return trip to Vermont to defend their 2009 USCAA National Championship. On Monday, the USCAA will announce bids to the 2010 National Championship Tournament. Keep it locked on www.marygrovemustangs.com for all the latest news as it develops Monday afternoon.
NEXT UP: Wednesday, October 27 @ Madonna. Game time is scheduled for 4pm at Independence Park Field #7 (Canton, MI).