Butler Awarded USCAA Player of the Week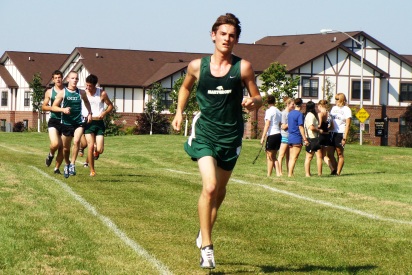 DETROIT, Mich.-The United States Collegiate Athletic Association (USCAA) has recognized Mustang student-athlete Anthony Butler (Wyandotte, Mich./Roosevelt) for his record-breaking performance last weekend.
Butler, a sophomore at Marygrove College, was awarded USCAA Player of the Week for the week ending 10/24/2010.
Entering Marygrove with a Presidential Scholarship (awarded to students with a high school GPA of 3.7 or higher), Butler was set out to be the consummate student-athlete from the beginning. A member of the Marygrove Honors Program, Butler currently holds a GPA far above the 3.0 threshold while also competing in intercollegiate cross country.
Butler recently topped his long list of accomplishments by breaking the Marygrove school record in the 8k. On Saturday, Butler's pace set fire as he finished with a time of 29:01 (beating the old school record by 30 seconds). For his effort, Butler was tabbed USCAA Player of the Week. Congratulations Anthony!