Foley Standouts Join Mustangs: Amber Williamson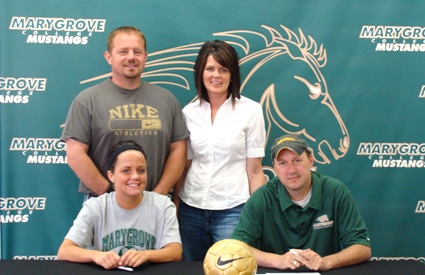 DETROIT, MI–Amber Williamson was second to sign during the gathering held at Bishop Foley High School. The signing will pair her with longtime teammate Sarah Kator four more years. Assistant Coach Jim Stachura was in attendance to sign the uber-athletic Williamson to a letter of intent.
Williamson, a hard-nosed forward and varsity captain, signs with Marygrove with a wealth of soccer knowledge and experience. Like Kator, her 14 years of soccer experience earned her four years on varsity at Bishop Foley. Williamson started compiling awards in 2008 when she was tabbed All-Area and All-State for her outstanding season. The successful 2008 season culminated with a trip to the MHSAA State Championship. Her individual and team success in 2009 is sure to bring a few more awards to Williamson's growing collection.
After winning their most recent tournament game, Bishop Foley is still alive in the hunt for a return trip to the MHSAA State Finals.
Coach Stachura on Williamson: Amber is a blue collar type of player. She attacks the game with remarkable skill and determination. She is capable of playing out wide in the midfield or as a forward. Amber plays with a lot of toughness which is unique for a player in an attacking role and will not hesitate to tackle an opponent hard.