Mustangs Drop Road Tilt at Wayne State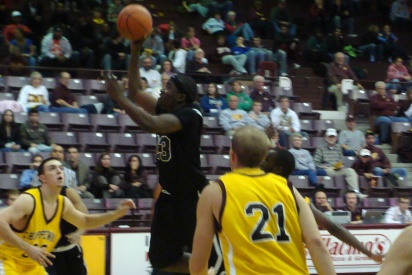 DETROIT, Mich.-The Mustangs nightmare schedule of NCAA D1 & D2 opponents is over – the Mustangs can now reflect and take away a lot from their unparalleled tough schedule to begin the season.
In a 117-61 loss, few would understand that positives can be drawn from the contest. You can. The Mustangs tough schedule to open the 2010-11 season should prove to be a catalyst for success later this season.
The size, strength, and sheer speed at which the larger universities play can be looked at as a positive experience for the Mustangs before they get into the NAIA part of their schedule next week. It is the coaching staff's hope that the Mustangs can play at 110% and translate their D1 & D2 experience at the NAIA level.
Junior guard Marcus Hopkins (Southfield, Mich./Southfield) led the Mustangs with 10 points, 3 rebounds and 2 assists. The team will take a few days off before heading to Kuyper College for a Saturday afternoon contest in Grand Rapids. Tip is scheduled for 1pm.