Hazel Park's Mabee Signs with Mustangs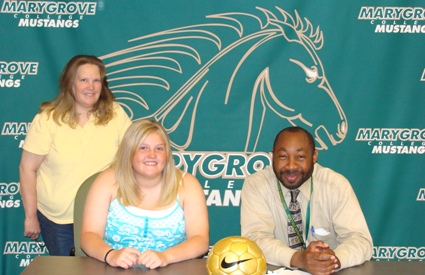 DETROIT, MI–Head Coach Tony Williams was at it again as he added another student-athlete to the growing inaugural class on Tuesday evening. Hazel Park's Nicole Mabee was the latest to join an impressive list of Mustang women's soccer players coming in the fall of 2009. The highly recruited athlete is the second in her family to play for Coach Williams.
Mabee, a 5'5″ center midfielder, will bring plenty of toughness and savvy to the Mustang attack this fall. The four year varsity captain was the face of Hazel Park girl's soccer for years. Over the course of a successful high school career, Mabee compiled accolades such as: TwoYear Daily Tribune Dream Team, Three Year All-District and Four Year OAA All-League. The team leader in goals and assists was recently named Team MVP for the fourth year in a row adding to the already impressive list.
She excelled on the volleyball court as well. The two-sport athlete broke school records in all setting categories. For her efforts, Mabee was named Team MVP and Unsung Hero (both awards one time respectively) during her three years on varsity.
Coach Williams on Mabee: Nicole is a talented player that is just beginning to tap her potential. Her awareness and abilities on the field will be valuable to our team over the next four years. She comes from a talented soccer family. I look forward to working with Nicole, as well as the rest of our talented student-athletes, this fall.