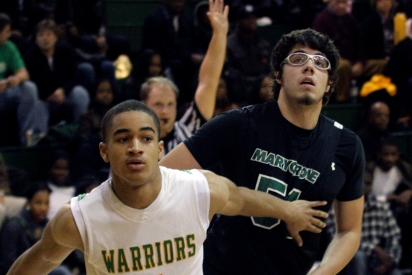 LIVONIA, Mich.-On Saturday, the Mustangs were able to stave off a late second half comeback to put away the Phantoms of East-West University 75-70 in the consolation game at the 2010 Madonna Classic.
The Mustangs made the best of an "off" performance in a game that featured a dismal 18 combined made field goals in the first half by taking a 28-24 Marygrove lead into the break.
In the second half, the Mustangs came out on fire hitting 63% of their shots en route to a 12-0 run that put them ahead 55-44 with 9:47 to play. However, a late Phantom comeback would be enough to keep the Mustangs involved in a nail-biter down the stretch. Chris Sinagoga (Madison Heights, Mich./Bishop Foley) secured the game with two late free throws to give the 'Stangs the 75-70 neutral court win.
Freshman forward/center Brandon Carlson (Waterford, Mich./Kettering) led the Mustangs with a 20-point, 8-rebound effort to secure a 2010 Madonna Classic All-Tournament Team appearance. With the 20-point game, Carlson averaged 14.5 points and 6.5 rebounds on 13-of-20 shooting over the two-day classic at Madonna University.