Resilient Team Effort Fuels OT Win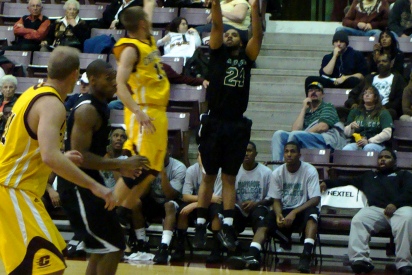 HOLLAND, Mich.-The Mustangs are going to ring in the new year on a good note after a thrilling 72-69 overtime victory against a tough Madonna University squad. The game between the two neighboring NAIA rivals was the consolation match of the 2010 Russ DeVette Holiday Tournament hosted by Hope College.
After facing a 26-13 deficit in the first half, and down by as many as 15 with 4:35 to go, the Mustangs were able to climb back to within seven at the break (36-29). The resilient first stanza effort was paced by freshman Brandon Carlson (Waterford, Mich./Kettering) who poured in eight points over four minutes to close the gap.
In the second half, the Mustangs were able to fight their way back into the game to force four ties in the second stanza seesaw battle. However, the comeback appeared to be just short as the Mustangs stared up at a four-point hole with 2:31 remaining after back-to-back Crusader buckets.
A Carlson layup (missed FT attempt) brought the Mustangs to within two with (59-57) with two minutes to play. After the teams exchanged missed shots, senior Justin McKinney (Detroit, Mich./Mumford) was able to sink a jumper with 43 ticks remaining on the clock to knot the game up, 59-59. The score would remain as a Darryll Dixon (Flint, Mich./Hamady) jumper was blocked to end regulation.
In overtime, the Mustangs jumped out to the lead behind strong play from Carlson (five overtime points). Keontay Glazier (Pontiac, Mich./Minot State) came through in the clutch with a key jumper with 2:44 to break the game's seventh tie. After the Glazier jumper, the Mustangs were able to rely on free throws by Chris Sinagoga (Madison Heights, Mich./Bishop Foley) to seal the hard-fought comeback victory by a final tally of 72-69.
Top Scorers: Brandon Carlson 19 (tied game-high) … Darryll Dixon 13 … Justin McKinney 11 (10 rebounds) … Marcus Hopkins 10 … Chris Sinagoga 9 (7 rebounds and 5 assists).
The win boosts the Mustangs record to 5-10 while Madonna falls to 4-12. The Mustangs will take a few days off before hitting the Ohio hardwood with a matchup against Lourdes College (Sylvania, Ohio) to open up 2011 play. Tipoff is set for 7pm Monday, January 3.