Hopkins Nets 30 In Loss To Flying Dutchmen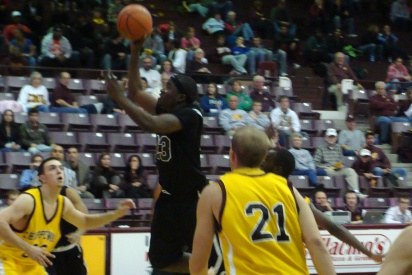 HOLLAND, Mich.-The host Flying Dutchmen topped the Mustangs in game one of the 2010 Russ DeVette Holiday Tournament by a tally of 91-68. Junior guard Marcus Hopkins (Southfield, Mich./Southfield) netted an impressive 30 points in the loss.
Hopkins' 30-point total was good for the 11th best scoring night in Russ Devette Tournament history. However, the effort was not Hopkins' top scoring effort of his career – and not his best while a visitor at Hope College. Last season, the athletic 6-1 guard poured in a cool 35 points en route to a 77-63 in over Purdue North Central (12/12/2009). Both 30+ point totals were on identical 12-for-20 efforts from the field.
Other notable scorers for the Mustangs were Brandon Carlson (Waterford, Mich./Kettering) and Justin McKinney (Detroit, Mich./Mumford) with 9 points each.
The loss pits the Mustangs against familiar NAIA foe, Madonna University. Tipoff is set for 5:30pm at Hope College. LIVE STATS