Spartan to Mustang: DeNooijer Inks with Mustangs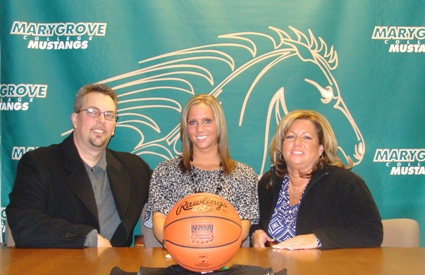 DETROIT, MI–Women's Basketball has added another prized recruit to the 2009 class. Warren Fitzgerald's Mariah De'Nooijer signed her letter of intent on Tuesday inside the conference room at Fitzgerald High School. The signing will forever hold a place in Warren Fitzgerald women's basketball history as De'Nooijer will become the first girl's basketball player to play in college.
A two year captain, the 5'9″ De'Nooijer helped lead her team to back-to-back district titles during her junior and senior campaigns. Over the course of a successful high school career, she earned a reputation as a hard-nosed defender that never backed down from a challenge. Her defensive presence was a welcome addition for the Fitzgerald Spartans in the highly competitive MAC Silver conference. For her efforts, De'Nooijer was tabbed Defensive Player of the Year for the Spartans.
Women's Basketball Head Coach Tony Hitchcock's take on De'Nooijer: "Mariah is a special player. She is a tough kid that will be a tremendous asset to our program. It's not solely her defensive ability that is liked by many; it is her willingness to do all the little things that win games. Her offense can be overshadowed at times because of her tenacious defense, but I expect Mariah to be a contributor on both ends of the floor."