Baker Inks First Commit, Pappas Signs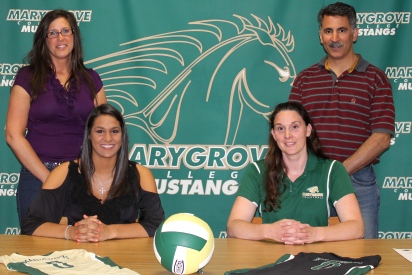 ST. CLAIR SHORES, Mich. —  New head coach Jamie Baker kicked off her Marygrove career in a big way with the signing of local standout Alixandria Pappas. The Lakeview High School senior joins a seasoned Marygrove team that is primed for their inaugural season of Wolverine Hoosier Athletic Conference (WHAC) play.
Pappas, a 5'9″ middle, was a four-year varsity player for the Lakeview High School Huskies. As a junior, the athletic middle earned Macomb Area Conference (MAC) Honorable Mention honors after a strong season in which she led the Huskies in kills. This year, Pappas' game launched her to a place on the All-County (Macomb) Third Team after a stellar senior campaign. Pappas is a member of the Dynasty Volleyball Club and also played two years of varsity softball at Lakeview High.
In the classroom, Pappas never lost sight of the true meaning of being a student-athlete. This past season Pappas was named to the All-State Academic Team and was part of the Huskies' MAC All-Academic Team for the past four seasons. The academically-focused senior intends on majoring in Pre-Dentistry at Marygrove.
Coach Baker on Pappas: Alixandria (Dria) is a well-rounded young lady that is supported by a great family. She is strong on the court and equally as strong in the classroom. Dria's signing will always hold a special place because it is my first as a coach at the collegiate level. I look forward to coaching her and the rest of the team in the fall.