Mustangs Sweep Cougars for Parent's Night Win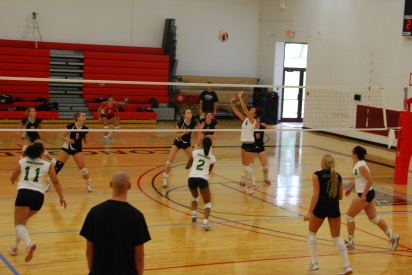 DETROIT, MI–The Mustangs hosted their final home game of the inaugural season of volleyball on Tuesday night. The evening began with a brief Parent's Night ceremony to thank all the parents for their hard work and dedication.
The Cougars of Kuyper College would be the unlucky squad to stand opposite of the Mustangs on parent's night. A relentless attack put the Cougars in their den during set one as the Mustangs rolled to an impressive 25-14 decision. Freshman Elizabeth Lerczak pushed the tempo with three first set kills. Lerczak (Hale High School) added two more kills in a second set blasting of the Cougars, 25-10.
Cruising out to a 2-0 lead, the Mustangs changed their lineup to showcase some of the players' skills in different positions. The lady volleyballers didn't lose a beat even though they rarely get experience at the positions they were playing. The Mustangs completed the three-set sweep with a 25-13 third set victory. The win improves the Mustangs record to 6-15 on the season.
Jalissa Favors (Southfield High) led the Mustangs with 8 kills, 4 blocks (1 assisted), and 3 service aces. Megan Gohl and Shana Tooley (Belleville High) finished with a total 16 assists and 16 digs. Jaci Michetti added 12 digs on the night.
The Mustangs travel to U of M-Dearborn for a tri-match against the host and Rochester College. Game times are set for 4pm (U of M-Dearborn) and 6pm (Rochester College).