Edsel Ford's Washington Joins Loaded 2012 Class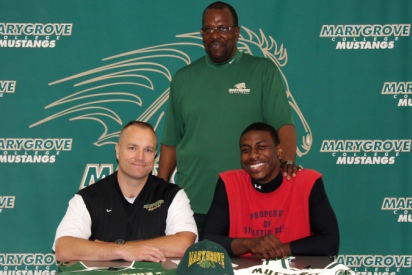 DEARBORN, Mich. — The men's basketball program picked up their eighth 2012 commit and plenty of frontcourt help after signing local standout Manny Washington to a 2012-13 Letter of Intent.
Washington, hailing from nearby Edsel Ford High School, was a two-year target of the Mustangs coaching staff due to his outstanding play for the Thunderbirds.
Washington, a 6'7″ athletic forward/center, comes to Marygrove after a successful two-year varsity career for the Edsel Ford Thunderbirds. The talented forward/center used the 6-7 frame to his advantage on his way to earning back-to-back All-City Team nominations after his junior and senior campaigns. Washington was also named All-Conference after helping lead the Thunderbirds into battle on the hardwood. The well-rounded athlete was a defensive end/tight end on the gridiron this season and currently is a member of the varsity track & field team at Edsel Ford.
Washington is a member of the Dearborn Elite travel team and has a summer full of tournaments as he prepares to enter the college ranks. Showcasing a team-first mentality, he listed one of his career highlights as a victory over Belleville during his senior season. Washington intends on majoring in Psychology and will minor in Secondary Education at Marygrove.
Coach Sichterman on Washington: Manny is a raw talent that has the ability to be a very successful student-athlete at our level. His size and strength will help us on the front line even though I could see him playing three different positions for us. As he continues to grow as a player, Manny will develop into a very tough matchup for our opponents. We are pleased to have Manny in our program and we look forward to coaching him over the next four years.