Mustangs Sign Paris, Add Experience and Speed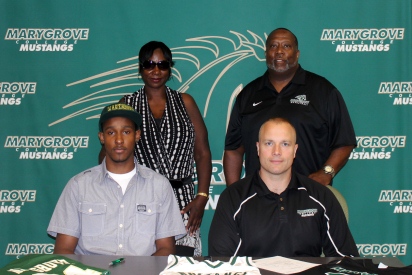 DETROIT, Mich. — On Tuesday (05/29), the men's basketball program continued their hot streak of signings after they picked up a commitment from Macomb Community College transfer, Keith Paris.
The junior — along with a host of new Mustangs — joins a solid returning cast as the program enters its first year in the Wolverine-Hoosier Athletic Conference (WHAC).
Paris, a 6'2″ speedy guard/forward, took the local community college stage by storm after a successful two-year career at Macomb Community College. As a freshman, Paris was named Co-Freshman of the Year (Co-MVP) and was tabbed Michigan Community College Athletic Association (MCCAA) Eastern Conference All-Freshman Team and MCCAA Eastern Conference Honorable Mention after a highly successful season. As a sophomore, Paris was once again named MCCAA Eastern Conference Honorable Mention. The guard was also tabbed the team's MVP and Defensive Player of the Year in his second and final season with Macomb Community College.
His junior college career was highlighted by a career-high 32-point game, as well as a 26-point, 18-rebound show put on against rival Oakland Community College. Paris intends on majoring in business and someday will turn his focus toward sports management.
Coach Sichterman on Paris: We are very pleased to add Keith to our strong 2012 class. He will give us plenty of experience as a transfer and will give our backcourt an immediate boost. We expect Keith to play a major role in our team's plans for the 2012-13 season. Like all of our recruits, Keith is a hard-working, unselfish young man that fits the mold of the type of student-athlete we are targeting at Marygrove College.