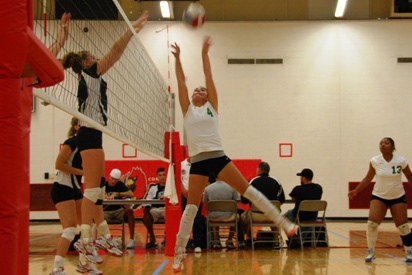 MARION, IN.–Tuesday marked the first out-of-state match-up for the youthful Mustang volleyball program. The host Indiana Wesleyan Wildcats did not waste any time sending the Mustangs back to Detroit winning in straight sets (3-0).
After the long ride to Marion, Ind., the Mustangs were hampered by a slow start and dropped game one 25-6. Game two would see much of the same for both sides as the Wildcats jumped on the Mustangs early and often to win 25-8. 
The third and final set showed some promise as the first year Mustangs battled close. In the end, the Wildcats proved to be too strong as the closed the match with a 25-12 victory.
Games Notes: The game against the Wildcats marked the first game for recent Gabriel Richard standout Jaci Michetti. Michetti, who started the year as an assistant coach, jelled with the team during training camp and decided to return to the game.
On Thursday, the Mustangs (0-5) look to notch their first win in program history as they visit the Redhawks from Indiana University-Northwest. The match will mark the second trip to Indiana this week for the Mustangs. Game time is set for 7 PM.