Mustangs Land Talented Inglsbee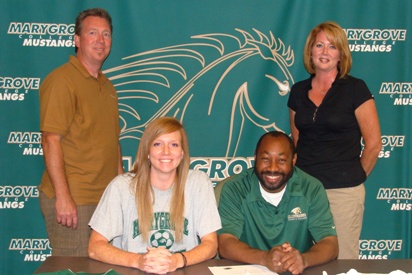 DETROIT, MI–The Mustang women's soccer program gained valuable experience on Thursday with the signing of Ashley Inglsbee. The Oakland Community College transfer looks to make an immediate impact with the first year Mustangs.
As a 5'7″ forward, Inglsbee made stops to play on various successful clubs in the metro Detroit area including the Waterford Warriors, Bloomfield Force, and the well-known Metro Rangers. During her high school years at Waterford Kettering High, the athletic forward boasted one of the leagues best reputations. Most notably, Inglsbee landed Oakland Athletic Association (OAA) All-District and All-League honors during her junior and senior seasons. The competitive club experience, combined with an outstanding high school resume, should bode well for the Mustangs in their inaugural season.
Coach Williams on Inglsbee: Ashley is a tremendous talent that has been in my system before. She is a hardnosed talent that showcases the ability to be a leader on our team. I am excited to have the opportunity to coach Ashley once again. She will make an immediate impact on our young team.