Rothenberg Returns to Soccer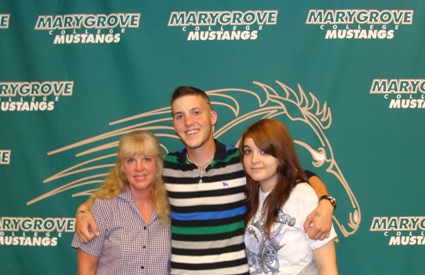 DETROIT, MI–Men's soccer didn't let the ink dry on letters of intent lately as they signed another student-athlete for the upcoming inaugural season of Mustang soccer. Former East Detroit athlete Mike Rothenberg was the latest to ink a letter of intent. He was joined at the signing by his mother and assistant coach Worteh Samson.
Rothenberg, a 2006 graduate of East Detroit High, will join the Mustangs after a brief departure from soccer. Despite the absence, the 5'9″ midfielder has the athleticism to make an immediate impact on the Mustang squad. While in high school, Rothenberg played football, hockey, tennis, track, and swimming/diving to go along with soccer. More importantly, he graduated "gold" in his class with a 3.2 GPA while carrying a heavy extracurricular load.
Coach Johnson on Rothenberg: Mike is a dedicated individual who has a great enthusiasm for the game. We expect him to take advantage of the opportunity he has now that he has signed with Marygrove. Our staff feels he could be one of our hardest working players.