Mustangs Drop Season Opener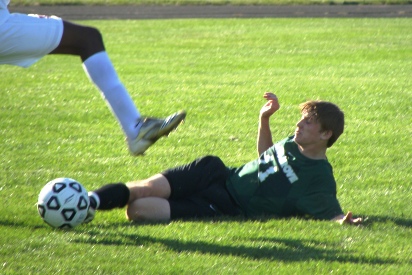 ANN ARBOR, MI–History has been made as Wednesday marked the inaugural men's soccer game in Marygrove College history. The Mustangs kicked their season off with a road tilt at Concordia University in Ann Arbor.
As the pregame clock struck all zeros (0:00) the Mustangs knew the first season was finally here. Nearly three weeks of preseason training went into the inaugural season and it began with Wednesday's game against the Cardinals. Both teams came out strong and played a scoreless 20 minutes of play. However, the savvy Cardinal squad would take control off a Mustang turnover for the first goal shortly thereafter. The goal would open up the first half floodgates as the veteran Cardinals tacked on three more to hold a 4-0 lead heading into the break.
The second half would start with a revived Mustang attack. The youthful Mustangs placed a few shots on goal and started to attack the Cardinal defense, changing the pace of the game. The opposition would answer with two more goals to put the game away at 6-0. Showing exceptional pride, the Mustangs continued to battle and nearly put goals in the back of the net within the final minutes of play. The attempts would ultimately fall short as the Mustangs were tripped up in their first intercollegiate contest, 6-0.
"It certainly didn't feel like a (6-0) nothing game. A few mistakes were made, but those will happen throughout the course of a season. We are a young, skillful team that will improve as the season goes on. Overall, we played hard, but we didn't stay balanced offensively, and defensively we were out of sorts at times," said men's head coach Matt Johnson.
The Mustangs next contest will be their first home game in program history. The Mustang men will welcome the Trojans of Taylor University (IN) on Wednesday, September 9 at 4pm. The game will be played at Pebble Creek Park in Southfield. For directions head to our facilities page at www.marygrovemustangs.com/f/Facilites.php.