Mustangs Downed in Home Opener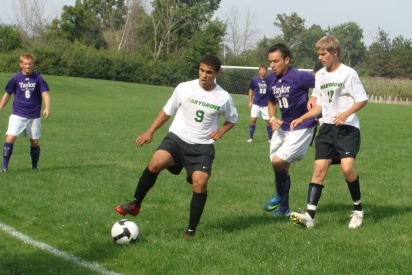 DETROIT, MI–The Mustangs were back on the field Wednesday as they looked to avenge their season-opening loss at Concordia. The game would also mark the Mustangs first home game in program history.
The emotions ran high before the game as Coach Johnson's youthful team anxiously awaited the refs whistle to kick-off first home game in Mustang soccer history. A strong start would hold the heavily favored Trojans from Taylor at bay for the twenty minutes of the game.
A Trojan onslaught would ensue shortly after as the lead quickly ballooned, 3-0. Freshman goalkeeper Malcolm Brinker would continue to face shots by the minute, saving many as he held the Trojans to three first half goals on 15 shots.
The second half would be a Trojan repeat as they managed to post three more goals on the Mustangs. Never giving in, the Mustangs battled to the end against the veteran Trojan squad. The Mustangs inexperience was the difference in the end as the Trojans left Detroit with a (6-0) victory.
After the game, Vice President of Student Affairs and Enrollment Management, Dr. Darrin Rankin, took time to pose for a picture with Coach Johnson and his two captains (Joe de Verteuil and David Jock). Athletic Director Dave Sichterman would accompany the group in the picture that capped off a memorable day for Mustang soccer.