Mustangs Denied Home-Opening Win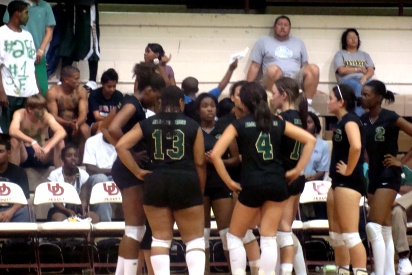 DETROIT, MI–The women's volleyball team held their home opener on Monday after starting the season on the road for the first 12 games. The Mustangs squared off against USCAA rival Rochester College.
The Mustangs got off to a hot start and challenged the favored Warriors from Rochester College early. A spirited home-opening crowd would propel the Mustangs to the brink of a first set victory. A service error, followed by a receiving error, would put the Mustangs down for good as they lost the first set.
Set two would belong to the visiting Warriors from the first serve. An emotional first set loss would be to blame for a sluggish second set. A five-point rally would bring the Mustangs to within six points before Rochester closed the set on three straight points, winning 25-16.
Facing a (2-0) deficit, the Mustangs rallied behind the antics from the crowd to take a commanding lead. A 16-8 Mustang lead would put them in command of the game. However, after a timeout, the Warriors would climb back in veteran fashion to reclaim the lead. The long rally took the wind out of the Mustang sails as they fell in the third set, 25-19, losing the match in straight sets. "Our team is improving everyday. We know it, our fans know it, and now our opponents are starting to see it. We really played well in front of our home fans tonight. I, along with my team, would like to thank them for coming out and supporting us with emotion, and Mustang pride," said women's head coach Karen Graves of her team and the spirited crowd that cheered them on throughout.
The Mustangs will remain at home as they are set to host the first invitational in program history this Saturday. The Marygrove College Invitational will be an eight-team pool play tournament that is set to begin Saturday at 9am. Head out to The University of Detroit Jesuit High School to catch all the action! For directions, please visit: www.marygrovemustangs.com/f/Facilities.php. GO MUSTANGS!