Cook, DeVoe Lead Mustangs to 2nd Straight Win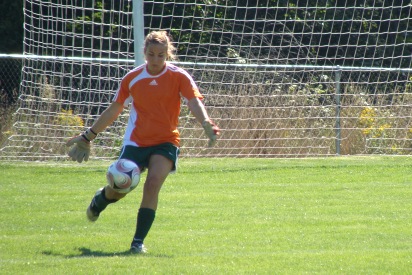 HUNTINGTON, IN–Coach Williams and the Mustangs were riding high all week after a huge (1-0) NAIA road victory at Pikeville College (KY). On Saturday, the Mustangs traveled to Huntington University (IN) seeking their second NAIA road win in as many tries.
The Mustangs would begin the game staring down a tall task if they wanted to escape Indiana with a win against an impressive Forester program. The game quickly turned physical as the two NAIA programs went toe-to-toe from the opening whistle. Junior transfer Marguerite Cook (1) blasted a goal into the back of the net at 40:26 to put the Mustangs up 1-0. Amber Williamson (Bishop Foley) earned the assist on the Cook goal. The Mustangs would take the slim one goal lead to the locker room at the half.
A strong Forester attack would be on the horizon in the second half. The Foresters, a team that has thrived in the NAIA, set out to even the score as they faced a one-goal deficit at the hands of the first year Mustangs. The game grew increasingly physical as the minutes ticked away. Frustration set in for the Foresters as freshman goalkeeper Shana DeVoe turned away all shots. In the end, the Mustangs upset the Foresters for their second road NAIA win in a row. The win evens the Mustangs 2009 record at 2-2. DeVoe played all 90 minutes in net and finished with eight saves. The (1-0) shutout was her second in a row.
ON DECK: The Mustangs square off against NCAA Division III Kalamazoo College on Wednesday at home. The home game against the Hornets is the first in Mustang women's soccer history. All the action will take place at Pebble Creek Park in Southfield at 4pm. Please visit our facilities page at www.marygrovemustangs.com/f/Facilities.php for directions to Pebble Creek Park.