Jackson Seeks Qualifying Time At WHAC Championship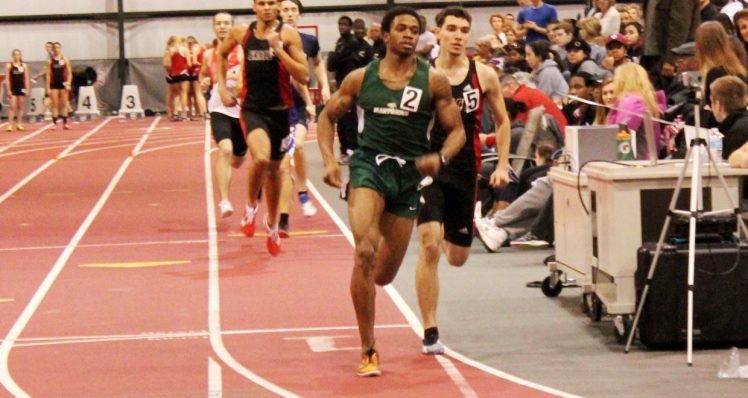 George Jackson (Detroit, Mich./Mumford), entering the 600m and 800m events, heads into this weekend's WHAC Championships with the best statistical chance to qualify for the NAIA National Championships with a 600m time of 1:24.08. The time was a collegiate best for Jackson and was a mere 2-plus seconds off the championship pace. Both runners finishing in front of Jackson's third place mark were WHAC student-athletes.
Jackson will also enter the Mustangs upstart 4×400 relay team consisting of teammates Robert Crockett (Detroit, Mich./King), Akil Prowell (Detroit, Mich./Crockett), and Jalen Wilson (Detroit, Mich./CMA). The group of Mustangs will look to shock the WHAC field as they remain hopeful for a title bid.
Crockett, another strong runner on the team, will enter the mile event where he recorded a personal record earlier this season. The record, coming via a 4:49 finish, places Crockett outside of the national title picture momentarily. Crockett's hard work and determination will likely earn him a top spot in the WHAC as he continues his march toward a title trip at some point in his collegiate career.
Prowell will run out in a familiar event, the 3000m, while Wilson will toe the line in the 200m. Freshman Franz Beauregard (Detroit, Mich./Macomb CC) will hit the blocks in the 60m event.
A full recap of the Mustangs first trip to the WHAC Indoor Championships will hit www.MarygroveMustangs.com later this weekend.
GET CONNECTED WITH THE MUSTANGS: Facebook | Twitter | Text Message Updates