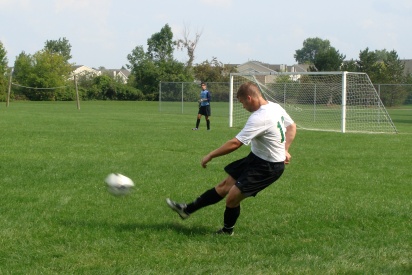 PONTIAC, MI–The Mustangs traveled 30 minutes north on I-75 to take on USCAA rival Rochester College on Wednesday afternoon. The Mustangs, winners of their last outing, looked to keep the momentum rolling going into the game against the Warriors.
The Mustangs started the game with a new netminder, Garrett Gregg, a freshman from Livonia Clarenceville. Gregg, who started the season on the bench due to lack of paperwork, is the sparkplug to the young Mustangs.
The Warriors attacked Gregg early and often and eventually slipped two goals past the freshman goalie (one from 35′ out). Gregg settled down shortly after and finished his first start by only giving up two goals.
A strong Mustang effort would be thwarted by veteran goaltending from the Warriors. Freshman Joseph de Verteuil had the lone three shots on goal for the Mustangs. All three shots were turned away by the Warriors goaltender and led to a 2-0 victory for the host Warriors.
The loss drops the Mustangs to 1-4 on the young season. However, a (2-0) loss to the Warriors shows that the team of freshmen is showing improvement. The Warriors are two years removed from a USCAA National Championship and have been to the USCAA National Tournament four years in a row.
The Mustangs return home on Saturday to host Pikeville College (KY). The Bears from Pikeville topped the Mustangs (2-0) earlier this season in Kentucky. The men from Marygrove look for revenge at 2pm this Saturday. The game will immediately follow the women's soccer game against Pikeville College in a men's/women's doubleheader.