Bears Edge Shorthanded Mustangs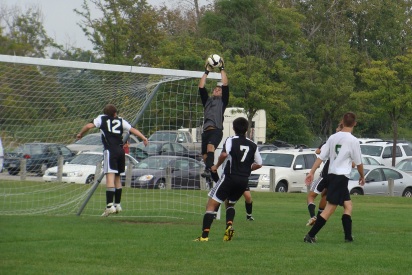 DETROIT, MI–The Mustangs played (7) minutes of 11-on-11 soccer before a red card forced them to play shorthanded the remainder of the game. Deflated, the Mustangs quickly fell behind. A courageous effort would setup a comeback that Mustang fans will not forget.
Coach Johnson and the Mustangs knew they had a challenge in front of them when they were staring down 83 minutes of shorthanded soccer. Two quick Bear goals (15:40 & 23:50) would make the challenge even more insurmountable. The Mustangs were now looking at a 2-0 deficit, while playing a man down.
Association of Independent Institutions (A.I.I.) Player of the Week, Jordan Berry, would answer the bell with a goal at the 40-minute mark. Freshman German Jiminez (Cesar Chavez) was credited with the assist on the play. The Mustangs would strike again less than two minutes later. Freshman Huss Seklawi found the back of the net for the first time this season to bring the Mustangs even, 2-2. The score would remain that as the first half came to a conclusion.
The amazing comeback had the Mustangs riding high at halftime as they prepared for another shorthanded battle in the second half. The 'Stangs continued the spirited effort into the final minutes of the game. However, the Bears delivered a crushing blow in the 80th minute as junior midfielder Brandon Little put one past Garrett Gregg (8 saves) for the game-winning goal. In the end, the Bears barely edged the Mustangs (3-2) in a battle that showed the youthful Mustangs heart.
The Mustangs remain home for matchup against cross-state NAIA opponent Cornerstone University. All the action takes place at Pebble Creek Park in Southfield at 4pm Wednesday.