U of D Jesuit Grad to Call Marygrove College Contests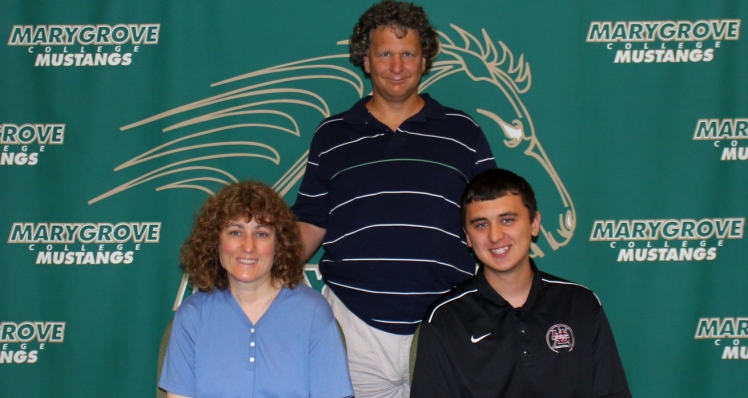 DETROIT, Mich. — It is rare to see a high school student's work begin to rival those that are professionals in their same field of study or craft. The exception is made when a student goes above and beyond the traditional high school experience. For 2013 University of Detroit Jesuit graduate, Jeremy Otto, the exception has been made – due to hard work and a sound family backing.
GET CONNECTED WITH THE MUSTANGS: Facebook | Twitter | Score Updates & News Alerts
Earlier this summer, Otto made a decision to remain in the Catholic family and attend Detroit-based Marygrove College. The decision came after a long look at schools throughout the Midwest region stretching as far as Marquette University (Wis.). In the end, Otto elected to remain home – in Detroit – where he will continue his education while also obtaining key experience as a student assistant in Marygrove's athletic department.
Before landing at Marygrove, Otto developed a sports information résumé that is rivaled by few his age. As a freshman at Detroit Jesuit, Otto was elected President of the school's broadcast arm, Cubs Sportscast. From there, Otto went on to call approximately 60-80 contests each year for Jesuit in the following sports: basketball, baseball, football, hockey, lacrosse, and soccer. As a sophomore, Otto received the nod to cover Catholic League Championship Games and quickly became the main network announcer for the league's video productions of future championship contests.  
"Jeremy started our club, Cubs Sportscast, as a freshman," remarked Dennis Dael, Assistant Athletic Director at University of Detroit Jesuit High School. "Now, the club is 15-20 members strong due to Jeremy's diligence and leadership. Marygrove is getting a young man that is very skilled and very committed to his work."
A student member of the Detroit Sports Broadcasters Association, Otto has covered multiple championships at Comerica Park, Ford Field, and Joe Louis Arena. This year, Otto called four state championship football games for the MHSAA Radio Network, and most recently called the Michigan High School Baseball Coaches Association (MHSBCA) All-Star game at Comerica Park on July 1.
"We first learned about Jeremy through Ken Kolb, one of Jeremy's mentors and one of the founders of the Student Broadcast Foundation," said Marygrove's Assistant Athletic Director for Media Relations & Events, Tim Johnston. The Student Broadcast Foundation (SBF) mentors students primarily from catholic league schools, preparing them for a work study program in college-level sports information.
"Jeremy was able to stand out for us due to his persistence, willingness to learn, and most importantly his ability to take direction," said Kolb of the SBF. "Due to his commitment to broadcasting and sports information, we [SBF] feel strongly that Jeremy will be able to step in and do fine at the collegiate level for Marygrove Athletics."
The SBF, also anchored by founder and one of Jeremy's mentors, Thom Lengyel, is well-respected throughout the southeast Michigan region and beyond, and has been embedded in the fabric of Detroit Catholic League sports in recent years. Otto was one of their top students and was also undecided about his future college plans.
That's where Johnston stepped in to meet with the Otto family.
"I sat down with Jeremy and his family to tell them about the great things happening at Marygrove College," continued Johnston. "Over time, Jeremy, along with his very supportive family, decided obtaining a private catholic education at Marygrove was their college of choice. As a small school, we rely quite a bit on student assistance so Jeremy's addition will be of great benefit for both him and Marygrove Athletics alike."
Johnston hopes Jeremy's decision to further his education at Marygrove can bring other students interested in sports information careers to Marygrove.
"Jeremy could be the beginning of something really special," Johnston said in regards to the hope that more sports information-minded young men and women would consider Marygrove. "It is an outside-the-box way to build my area in the athletic department, but I think it is an area that is under-served because a great number of young students don't receive on-the-job training while in college. I'm very excited to work with Jeremy as he takes another step toward his career aspirations, and welcome others to reach out if they wish to do the same."
Heading into the 2013-14 academic year, Otto will be the lead "Voice of the Mustangs" as he will call the approximately 50 live audio broadcasts through Marygrove Athletics' new live stream partner, Stretch Internet. In addition to calling live contests, Otto will assist the sports information department in a variety of other rolls when he finds time outside of the classroom. Some of Otto's other résumé-building activities include video productions such as: student-athlete and coach interviews, weekly recaps of Mustang athletics, and highlights of selected games to name a few.
"Jeremy is gaining invaluable on-the-job experience while obtaining a first-class education," said Johnston. "If he continues to work hard, I know Jeremy will be successful at Marygrove and for the many years to follow after he graduates."
"I'm looking forward to working with a young man as job-ready as Jeremy," stated Marygrove's Director of Athletics & Wellness, Dave Sichterman. "We are always looking to enhance our program, and offering students opportunities to further their skills — whether their interest lies in sports information, sports medicine, or sports administration in general — is one avenue that we are excited about. Adding a student with a résumé like Jeremy has built is a great start and a great representation of how we would like to see this work at Marygrove College."
For more on Marygrove Athletics, visit their official website at: www.MarygroveMustangs.com. All of Otto's broadcasts will stream here: http://client.stretchinternet.com/client/marygrove.portal