Cross Country Preview: New Year, New Look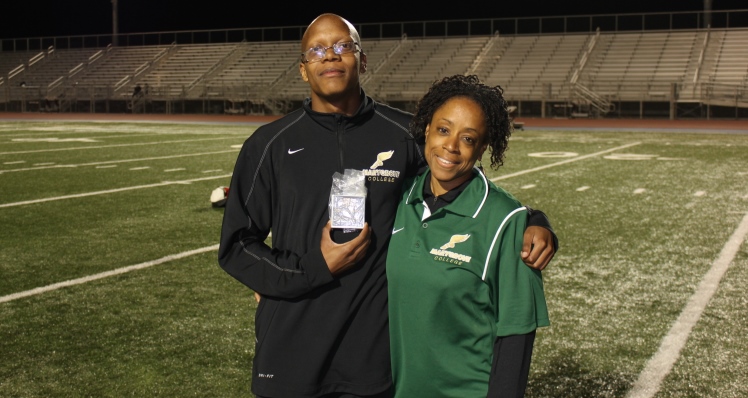 DETROIT, Mich. — Third year head coach LaCema Womack will enter the 2013 season with a new look squad after longtime Mustangs Anthony Butler and Shana Devoe exited due to exhausted eligibility and graduation. Womack, head coach of the men's and women's cross country and track & field squads at Marygrove, will lean heavily on a young, talented cast of Mustangs to take the program to new heights.
Leading the charge for Womack's Mustangs is junior captain Robert Crockett (Detroit, Mich./King). In 2012, Crockett showed continuous improvement by setting and breaking multiple PRs throughout the six-meet campaign. The then-sophomore capped off a stellar season by setting a PR of 29-minutes flat in his first Wolverine-Hoosier Athletic Conference (WHAC) Championship Meet.  Crockett will look to build off his final outing and start the 2013 season by pacing his team to improved times.
"Robert is a hard-working student-athlete that has significantly improved over his years at Marygrove," said Womack. "He is a very capable and willing leader that will help our team improve throughout the year. I look forward to seeing Robert continue to cut into his time this season."
Crockett will be flanked by a relatively young crew that includes Franz Beauregard (Warren, Mich./Macomb CC), Anthony Ells (Midland, Mich./Midland), and Jalen Wilson (Detroit, Mich./CMA) to name a few. Of those, Ells has been an surprise of late for Womack and assistant coach Makiba Batten with his enhanced commitment to his craft. Ells, a transfer in 2012, was forced to sit out last season and is itching to get back to competition soon.
"Lately, our practices have been very productive," continued Womack. "While they know a long road lies ahead, I am very proud of our team for their hard work during preseason."
On the women's side, Bertice Hubbard (Mt. Clemens, Mich./Macomb CC) will lead a cast of newcomers set to join the attached squad in the coming weeks. Hubbard, the lone runner throughout the preseason for the Mustangs, is focused on improving this season as she prepares for the indoor track campaign.
The 2013 season begins Saturday (Sep. 7) at the 27th Annual Running Fit/Detroit Titan Invitational. The annual invite will be held at Northville's Cass Benton Park and will start at 11:15 a.m. with the women's 5K. The men's 4-mile race is scheduled for an 11:45 a.m. start.