Volleyball Earns First WHAC Win On Senior Night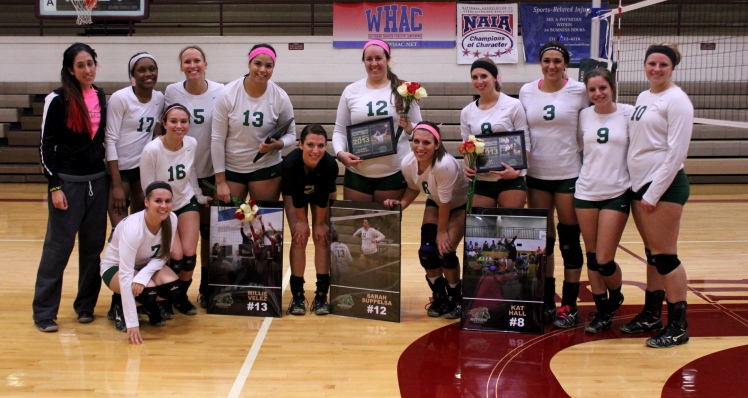 DETROIT, Mich. — The women's volleyball team (16-13, 1-8 WHAC)Â picked up a historic win Wednesday (Oct. 23) on Senior Night by taking a four-set decision over conference counterpart Concordia-Ann Arbor (23-25, 29-27, 25-22, 25-9). The emotional four-set victory was the program's first WHAC win since joining the conference in Fall 2012.
The win couldn't have been scripted better for the team's three seniors – Katharina Hall (Livonia, Mich./Henry Ford CC), Sarah Suppelsa (Livonia, Mich./Concordia-Ann Arbor), and Amelia Velez (Imlay City, Mich./Prairie View A&M) – as the group fueled a furious come-from-behind victory on a night that celebrated their careers.
Velez finished her senior night with 22 kills – a single match program record for Marygrove Volleyball.
After going down a set to the visiting Cardinals, 25-23, the seniors helped rally the troops for what set up to be a wild second set comeback. Down a set and behind 24-18 in the second, the Mustangs put together a rally fit for a Hollywood script as they willed their way to a 29-27 victory to tie the match, 1-1.
Amelia Velez fired back with five kills in the late second set rally and freshman Ashley Murphy (Southfield, Mich./Clarenceville) had two to end the set to help even the score. Katharina Hall came up huge with a kill from setter Nicole Kempinski (Livonia, Mich./Schoolcraft) to bring the second set even at 26-26, setting the stage for Murphy's final two kills.
The Mustangs and Cardinals engaged in a seesaw battle in the pivotal third set. Marygrove newcomer and former Cardinal Sarah Suppelsa was the difference late in the third set as she helped power the Mustangs past her previous squad. Down 20-22, the Mustangs used an Alixandria Pappas (St. Clair Shores, Mich./Lakeview) kill to draw within one before Suppelsa slammed down three kills in the latter stages of the set to lift the Mustangs to a 25-22 set three win.
From there, the Mustangs made sure a Cardinal comeback was not in the cards as they won set four going away, 25-9. The win was the second over Concordia-Ann Arbor this season (previous win in non-conference action).
Overall, the Mustangs played some of their finest volleyball of the season Wednesday evening. Katharina Hall once again led a spirited effort with 13 digs and 9 kills. Most importantly, the senior engineered a strong serve receive along with junior Kara Kempinski (Livonia, Mich./Schoolcraft) to help keep the Cardinals at bay.
Sarah Suppelsa was locked in on Senior Night with a 14 kill, 0 attack error performance. Fellow senior Amelia Velez broke the Mustangs single match record with 22 kills. Velez added a solo block and assisted on three other blocks on the evening.
Junior Kiara Cobbs had three solo blocks and five assisted blocks to go along with eight kills, while Alixandria Pappas slammed down six kills in the win.
Kara Kempinski amassed 30 digs while sister Nicole set up 53 assists for the Mustangs. Alyssa Adkins (Melvindale, Mich./Melvindale) played a big role in the win as a freshman coming up with seven digs in the back row. Hayley Jury (Plymouth, Mich./Ladywood), also a freshman, was steady in her time on the court in Wednesday's WHAC win.
As a team, Marygrove's hitting percentage was .290 compared to Concordia's .152 clip. At the net, the Mustangs stuffed the Cardinal attack to the tune of four solo blocks and 18 block assists.
"I am so incredibly proud of our team tonight," said an emotional coach Jamie Baker after the match. "The team made an unbelievable comeback to help us get our fist WHAC win. I am happy we were able to win not only for our seniors, but for everyone that came before us in the program as well. Tonight's win means a lot to us as a team, but we have more unfinished business left this season."
With their first WHAC win behind them, the Mustangs will now look to string together their first conference winning streak when they travel to UM-Dearborn Tuesday (Oct. 29) for a 7:00 p.m. match. The conference tilt precedes the team's trip to New York as the No. 1 seeded Mustangs aim for a USCAA National Championship at SUNY-Canton from Oct. 31 – Nov. 2.
Follow women's volleyball on twitter: @MGroveVBALL