Our Time: 2015 Men's Soccer Season Preview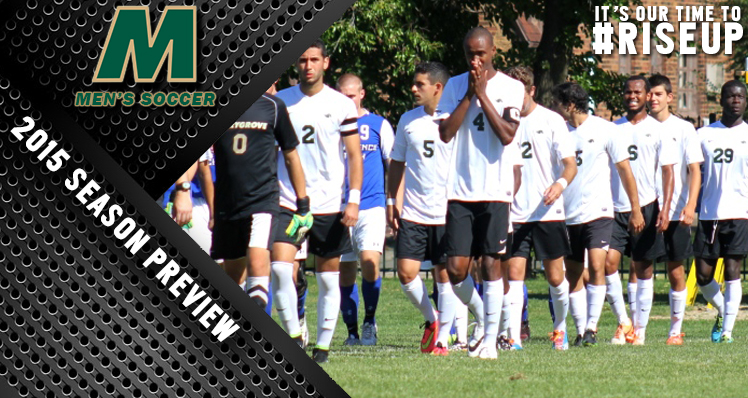 STAY CONNECTED: Facebook | Twitter | Instagram | YouTube
BE THE FIRST TO KNOW:Â Text & Email Alerts
DOWNLOAD OUR APPS:Â iOS (iPhone/iPad)Â |Â Android
2015 SCHEDULE / ROSTER
DETROIT — A year removed from hosting the first Wolverine-Hoosier Athletic Conference (WHAC) home playoff game in program history, Marygrove men's soccer is working hard to continue their ascent in the conference and NAIA scene in 2015. The 2015 campaign will once again be led by head coach Matt Johnson who returns for his seventh year at the helm.
This season, Johnson will be joined by new lead assistants Yao Kra and Zach Wilkes after longtime assistant Worteh Sampson exited to take the head job for the Mustangs' women's soccer program.
Johnson and the Mustangs have enjoyed plenty of success since joining the WHAC in 2012 – success that can be measured with trips to the league's playoffs in all three seasons and a 17-13-4 overall mark against conference foes (including playoffs) over the past three seasons.
HERE'S HOW IT WILL ALL BE COVERED
All home games will be streamed via live video with Jeremy Otto and Brendan Johnson on the call for the Mustangs Sports Network. This year, the Mustang Sports Network will be unrolling new and improved coverage, including HD video streaming*. Select road games will be covered via live audio as well.
Catch all the action on marygrovemustangs.com/live – the home of the Mustang Sports Network – or by watching new weekly shows, hosted by Brendan Johnson, on our Mustang Vision and YouTube pages.
*Due to HD streaming, user internet connection must be high speed/high quality to prevent potential lagging or choppiness.
THE SCHEDULE BREAKDOWN
And we thought the 2014 non-conference slate was hard!  A season-opening road tilt at Lindsey Wilson (Ky.) – one of the nation's top programs over the past 15 years – kicks off a difficult non-con menu of games for the Mustangs on Aug. 19 at 7 p.m. From there, the Mustangs will also have to deal with 2014 nationally-ranked foes Point Park (Pa.) and Taylor (Ind.) as they await the Mustangs in key non-conference matchups, while Bethel (Ind.) and Saint Xaiver (Ill.) visit the Motor City for non-league home games.
The Bethel contest on Aug. 22 marks the home opener for the Mustangs and the first ever meeting between the schools on the men's soccer pitch. The game will follow the 3 p.m. women's soccer tilt against Purdue Calumet (Ind.) and will be streamed live on the Mustang Sports Network approximately 20 minutes after the women's game concludes.
NCAA Division II Saginaw Valley State University is on the schedule for the fifth consecutive season, this time as an exhibition tilt, while Rochester (Mich.) returns despite exiting last year's matchup at the last minute due to a scheduling conflict. A road trip to Huntington (Ind.) is also on the non-conference slate when the Mustangs hit the road on Labor Day weekend.
The Mustangs open up WHAC play on the road against a hungry Lawrence Tech squad at 3 p.m. on Sept. 26 and play their first conference home match four days later when Michigan-Dearborn visits Detroit for a 4 p.m. kick on Sept. 30. In all, the Mustangs face three WHAC playoff teams from a season ago at home and four on the road. Newcomer Lourdes (Ohio) will visit the Green and Gold's campus on Oct. 10 at 3 p.m.
GETTING OFFENSIVE
The names Abdoulie Jallow and Oneil Robinson are already known to fellow teams across the WHAC, as well as any school that happened to pop up on the Mustangs schedule over the past three years. This season, two of the program's top four all-time leading scorers intend to wreak havoc once again as one of the more dynamic one-two punches the conference has to offer. 
The pair of prolific scorers will be counted on as the top targets once again in 2015, one season after they combined for 15 goals and 14 assists.
Jallow's eight-goal, 11-assist season in 2014 earned him First Team All-WHAC honors and also propelled him tothe top of the ranks in the all-time assists category at Marygrove. Robinson (Montego Bay, Jamaica/Cornwall College) enjoyed his best season in a Marygrove kit in 2014, racking up seven goals and three assists – none better than his nifty slotting pass inside the box to Jallow (Bansang, The Gambia/Rust College) opposite Indiana Tech on Oct. 15. [RELIVE THE PLAY HERE]
Expect to see plenty of senior Khalid Suleiman (Tulkarm, Palestine/Madonna University) up front this season for the Mustangs, while Gbenga Ayanwale and Mario Morana are also expected to make contributions throughout the 2015 campaign for the Mustangs at forward.
Suleiman enters 2015 with 35 appearances and 18 starts in a Marygrove uniform, adding three goals and a pair of assists over that span.
A TALENTED MIDFIELD GROUP
Out is Jose Carlos Salas, a conference-season addition for the Mustangs in 2014, in is sophomore Mohammed Alkhulaidi (Sana'a, Yemen/Michigan-Dearborn). Alkulaidi appeared in 12 games, starting three, and went on to tally two goals as a freshman in 2014. [ALKHULAIDI NET CAM GOAL]
The sophomore midfielder will be joined by senior Gaoussou Cisse (Abidjan, Ivory Coast/Lathrup High School) and junior Louismaria Umejeigo to form a solid midfield, while Haider Alzayadi returns for his final season at the collegiate level as one of the veterans of the group with three years of starting experience.
This season, Alzayadi will have added responsibilities out of the middle and off the pitch as he will be looked upon as a leader and a playmaker in order for the Green and Gold to take another step forward in 2015. Alzayadi (Simawa, Iraq/Wayne State University) enters 2015 with 12 career points (two goals), including his game-winning strike against Concordia-Ann Arbor on Oct. 8, 2014. [RELIVE THE GAME-WINNER HERE]
Redshirt freshman Jose Bonilla (Salt Lake City, Utah/West High School) will also see considerable time in the midfield for Johnson and the Mustangs in 2015.
THE ANCHORS IN BACK
We're about to take an inside look at arguably the most balanced group of Johnson's Mustangs this season. The defensive unit boasts strong leadership behind senior returners Ali El Habhab (Saida, Lebanon/Dearborn High School) and Moussa Diallo (Conakry, Guinea/Dearborn Fordson High School), two of the team's top defenders over the past three seasons. Both El Habhab and Diallo return, making life in back a bit easier for the Mustangs, but the pair will be missing key counterpart Ramon Salas after the Spain-native returned home this summer.
Despite having success at the collegiate level, El Habhab and Diallo enter 2015 hungry with plenty to prove after the Mustangs gave up their fair share of goals last season. The longtime starters will be flanked by Talal Hamodi, Ma Sambou Jatta, Jeff Okerstrom and Andriy Pelekh this season – a balanced group that offers plenty of athleticism and experience for the Green and Gold.
Pelekh earned a start in 14 of his 18 appearances as a true freshman last season, notching one goal and four assists to put together a six-point campaign. The sophomore is expected to play a large role in the team's plans in back this season alongside Hamodi, Jatta and Okerstrom.
REVAMPED GOALKEEPING CORPS
Junior Ryan Plonka (St. Clair Shores, Mich./Macomb CC) returns after leading the team in 2014 and will be challenged for the starting spot by a pair of talented keepers, Austin Valentine (Westland, Mich./Concordia-Ann Arbor), a junior who is now eligible after sitting out due to the WHAC transfer rule, and sophomore transfer Ayman Youssef (Dearborn Heights, Mich./Walsh).
Valentine and Youssef have enjoyed a solid preseason camp, according to Johnson, while Plonka's return gives the team plenty of familiarity.
Youssef, a transfer from NCAA Division II Walsh (Ohio), has the largest frame of the keepers standing at 6-3 compared to Valentine's 6-foot stature. Youssef earned in a start in all 12 appearances a true freshman for Walsh last season and turned away 53 shots in the process. Valentine's last action at the collegiate level was in 2013, a season in which he stood tall against a high-octane Mustangs squad when he was with the Concordia-Ann Arbor Cardinals.
MEN'S SOCCER CONTACT: Tim Johnston | [email protected] /* */ | @tjohnston56
MARYGROVE BROADCASTS: Mustang Sports Network | Twitter
SOCIAL MEDIA:Â Men's Soccer on Twitter