Weekly Notes: Volleyball Hits the Road for Three Matches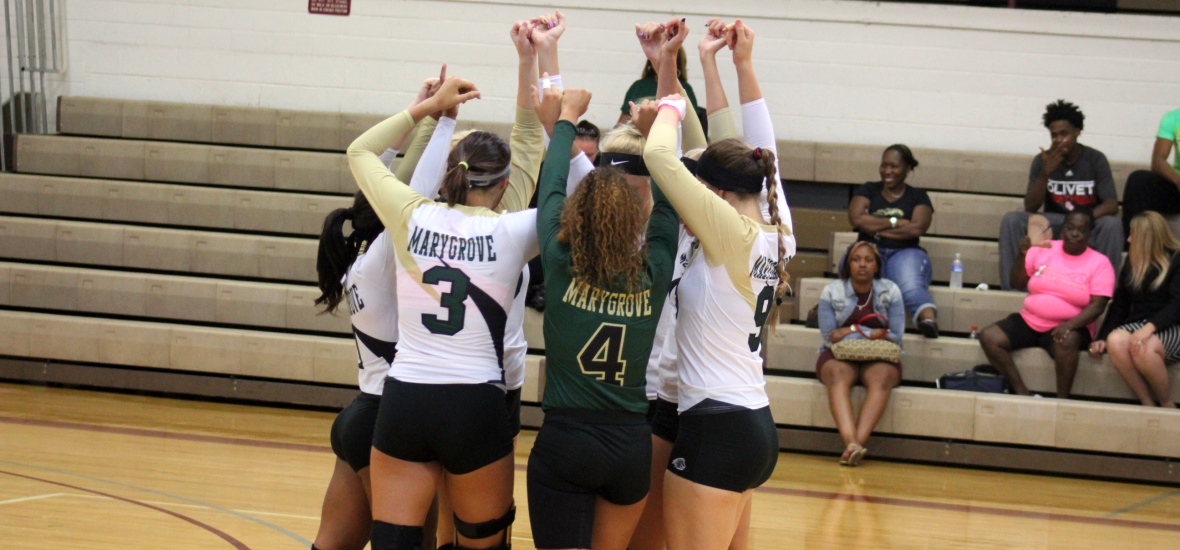 CLICK HERE FOR THE COMPLETE VERSION OF WEEK SIXÂ NOTES (PDF)
WEDNESDAY, SEPTEMBER 30
Marygrove (2-14, 0-8Â WHAC) at Lawrence Tech (5-16, 2-6 WHAC)
Time: 7Â p.m.
Location: Don Ridler Field House — Southfield, Mich.
Coverage: Live Video and Stats (LTU Coverage)
FRIDAY, OCTOBER 2
Marygrove (2-14, 0-8Â WHAC) at Siena Heights (7-5, 4-4 WHAC)
Time: 7 p.m.
Location: SHU Field House — Adrian, Mich.
Coverage: Live Video and Stats (SHU Coverage)
SATURDAY, OCTOBER 3
Marygrove (2-14, 0-8Â WHAC) at Aquinas (7-6, 3-5 WHAC)
Time: 1 p.m.
Location: Aquinas Gymnasium — Grand Rapids, Mich.
Coverage: No Coverage
BY THE NUMBERS
303:Â The number 303 represents the number of career sets played for the longest tenured Mustang on the roster, Alixandria Pappas. A senior captain, Pappas has amassed a stellar career despite facing a litany of injuries. Through her 303 sets played, Pappas has tallied 392 kills, 142 total blocks, 94 digs and 16 service aces.
4: Four (4) Mustangs have slammed down 20 or more total blocks on the young season. Alixandria Pappas leads the way with 32 blocks through eight matches on four block solos and 28 block assists. Rachel Staudt, Ashley Murphy and Paige Hughes join Pappas in the over-20 club, while Hayley Jury checks in with 12 total blocks of her own.
5:Â Okay, we messed up last week. The Mustangs begin a five (5) match road stretch this week (not four as advertised last week). The five-match road swing begins Wednesday (Sept. 30) at Lawrence Tech and continues with a pair of conference tilts away from home this weekend. The five-match road trip means the Mustangs will not return home for a match until Oct. 14.
MUSTANG ROUNDUP
The Mustangs experienced an up-and-down week with three straight losses at the hands of Concordia-Ann Arbor, Davenport and NAIA No. 15 Madonna. Despite losing all three last week, the Mustangs looked impressive in spurts by taking Concordia-Ann Arbor to four sets and nearly taking the first set from Madonna, a team that is undefeated in WHAC play (8-0) and 17-3 overall.
SENIOR NIGHT ANNOUNCEMENT
The Mustangs will host Senior Night 2015 on Nov. 4 against Lawrence Tech. Join us after the match for a special ceremony celebrating the careers of senior class members Alixandria Pappas and Rachel Staudt. Pappas is the lone four-year senior on the 2015 roster.
THE MOTT CONNECTION
Brenna Donnelly and Rachel Staudt, both formerly of Flint's Mott Community College, have been impressive as of late for the Mustangs. Staudt leads the Mustangs with 148 kills and a .317 hitting percentage (Donnelly, 53 kills).
KELLY ANCHORS THE DEFENSE
Sophomore Amber Kelly, one of many quality Mt. Morris volleyball products, has burst onto the scene as a sophomore and is relishing an increased role in the back row. The team's primary libero as of late, Kelly has totalled a team-best 169 digs through eight matches this season.
DID YOU KNOW?
Marygrove head coach Jamie Baker was also a college volleyball player. Baker played at Michigan Tech and still holds records to this day.
A LOOK AT LAWRENCE TECH
Fifth-year head coach Larry Wyatt and the Blue Devils are riding high after their upset over Siena Heights on Saturday (Sept. 26) in four sets. The Blue Devils are led by Mary Armstrong with an impressive 314 kills on 780 attacks for a .286 hitting percentage. Lexi Szymoniak leads the back row with 183 digs through  21 matches while Brittany Schmidt chimes in with 131 digs.
A LOOK AT SIENA HEIGHTS
The Siena Heights Saints are led by first-year head coach and former Eastern Michigan coach, Kim Berrington. After spending 19 years at the helm of the Eagles, Berrington now leads a Siena Heights squad with a 7-5 record overall and an even 4-4 mark in the WHAC.
A LOOK AT AQUINAS
The only squad to boast co-head coaches in the WHAC, the Aquinas College Saints enter the week with a record of 7-6 overall and a 3-5 mark in WHAC play. Michaela Ryan leads the Saints with 114 kills through 13 matches.
AROUND MUSTANG ATHLETICS
Soccer takes center stage at home this week with three home matches on the campus of Marygrove College. On Wednesday, the women's and men's soccer teams will play a doubleheader at 1 and 4 p.m. while the women's squad also has a 12 p.m. home game Saturday.
THE MUSTANG SPORTS NETWORK
Watch all home games via live video on marygrovemustangs.com/live – your home for in-game coverage with Jeremy Otto and Brendan Johnson on the call.
STAY CONNECTED: Facebook | Twitter | Instagram | YouTube
BE THE FIRST TO KNOW:Â Text & Email Alerts
DOWNLOAD OUR APPS:Â iOS (iPhone/iPad)Â |Â Android
WOMEN'S VOLLEYBALL CONTACT: Tim Johnston | [email protected]/* */ | @tjohnston56
MARYGROVE BROADCASTS:Â The Mustang Sports Network (MSN)Â |Â MSN Twitter
WOMEN'S VOLLEYBALL:Â Twitter