WHAC Honors Five Men's Soccer Student-Athletes, Jallow Named First Team All-Conference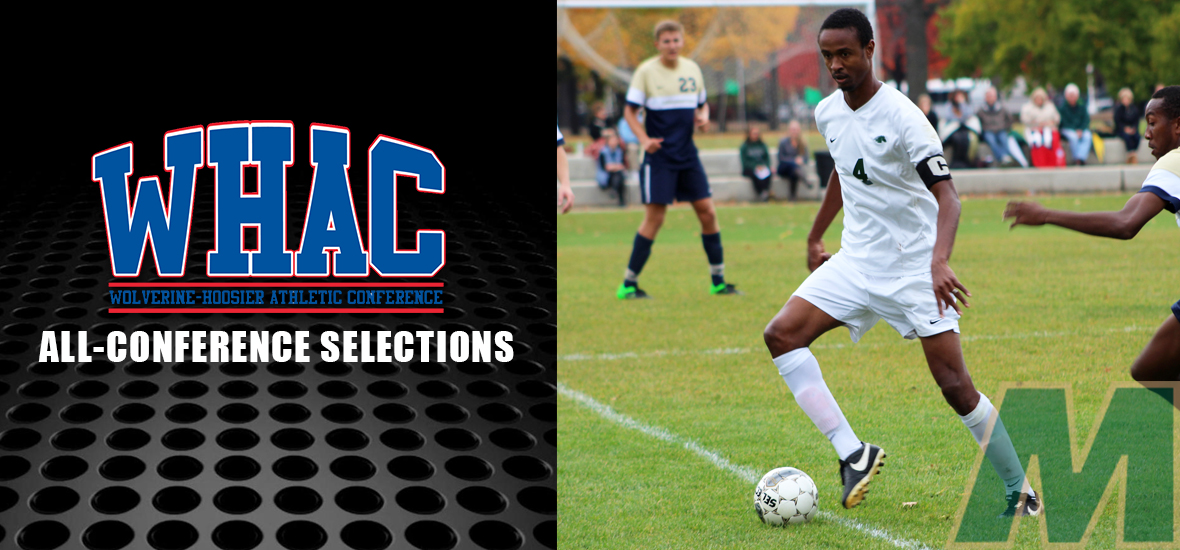 STAY CONNECTED: Facebook | Twitter | Instagram | YouTube
BE THE FIRST TO KNOW:Â Text & Email Alerts
DOWNLOAD OUR APPS:Â iOS (iPhone/iPad)Â |Â Android
WHAC RELEASE
DETROIT – Senior forward Abdoulie Jallow led a list of five Marygrove men's soccer student-athletes honored by the Wolverine-Hoosier Athletic Conference (WHAC) as the league office released the 2015 all-conference selections on Friday (Nov. 6), honoring the conference's top student-athletes for their performance on-and-off the field.
The awards announcement comes on the eve of the conference's men's soccer tournament as the Mustangs and seven other teams prepare to play in the win-or-go-home environment. The third-seeded Mustangs host sixth-seed Lourdes on Saturday (Nov. 7) at 2 p.m. in Detroit.
In all, five Mustangs were named to various award teams on Friday, including Jallow, who made a second consecutive appearance as a First Team All-WHAC member. Jallow also earned a spot on the WHAC's All-Academic Team, an honor he received for the second time in as many years after exceeding the minimum requirements of a junior or above in academic standing and a 3.25 cumulative GPA.
Jallow (Bansang, The Gambia/Rust College) has put together a fine senior campaign, amassing eight goals and five assists in 16 appearances. The five-assist season allowed Jallow to pad his lead as the Mustangs' all-time leader in the category with 26 career helpers. The skilled forward is tied for second all-time in goals (29) with former Mustang standout and current Lebanese professional soccer player, Jad El-Zein. Jallow's three game-winning goals also locks him in a tie with El-Zein for second all-time in the category with 11.
Fellow senior Oneil Robinson (Montego Bay, Jamaica/Cornwall College) also made a return appearance to a familiar list after being named to the WHAC Honorable Mention squad for the second consecutive season. Robinson, one of the Mustangs most dangerous targets up top, was credited with six goals and four assists in 16 matches (12 starts) while tucking in one game-winning tally this season.
Robinson was also named a 2014 WHAC Honorable Mention member.
Seventh-year head coach Matt Johnson also had a first-time all-conference honoree on Friday as senior defensive midfielder Gaoussou Cisse was recognized by the conference's head coaches for his efforts this season. Cisse (Abidjan, Ivory Coast/Lathrup High School) is one of the team's anchors on the back half and has been a mainstay in the starting lineup over the course of his four-year career.
This season, Cisse sent home his first collegiate goals – tallying a pair to go along with an assist for a seven-point campaign as one of the team's primary defensive-minded players.
WHAC ALL-ACADEMIC TEAM
Khalid Suleiman (Tulkarm, Palestine/Madonna Univ.) was the fourth senior honored by the WHAC as the well-rounded student-athlete was named as a member of the WHAC's All-Academic Team. Suleiman joins two-time awardees Abdoulie Jallow and Oneil Robinson on the heralded academic list as a first-time recipient of the honor.
While earning the award for his work in the classroom, Suleiman has sculpted a stellar senior season with 17 appearances and four starts on his way to adding a much-needed game-winning goal at Indiana Tech on Oct. 17. Suleiman, whose 17 appearances ties for the second-most on the team, also added one assist this season for a three-point campaign.
WHAC CHAMPIONS OF CHARACTER TEAM
Junior keeper Austin Valentine was named to the WHAC's Champions of Character Team by head coach Matt Johnson. Valentine earned the distinction on the Mustangs representative on the character team by exhibiting the attributes of the NAIA's Five Core Values of Integrity, Respect, Responsibility, Servant Leadership and Sportsmanship.
The well-deserved character award follows a regular season campaign that saw Valentine (Westland, Mich./Concordia-Ann Arbor) help the Mustangs shut down numerous opponents. Valentine, one of three keepers used by Johnson this season, has the most wins of any glove-wielding player with six on the season and has had a hand in a pair of shutouts. The junior keeper has posted a1.32 goals against average and a .708 save percentage through 11 starts this season. 
PLAYOFF MATCH — LOURDES PROMO
PLAYOFF MATCH — BROADCAST TEASER — PREGAME SHOW LEAD-IN
MEN'S SOCCER CONTACT: Tim Johnston | [email protected]/* */ | @tjohnston56
MARYGROVE BROADCASTS: Mustang Sports Network | Twitter
SOCIAL MEDIA:Â Men's Soccer on Twitter