Weekly Notes: Men's Basketball Visits NCAA Division I Western Michigan Saturday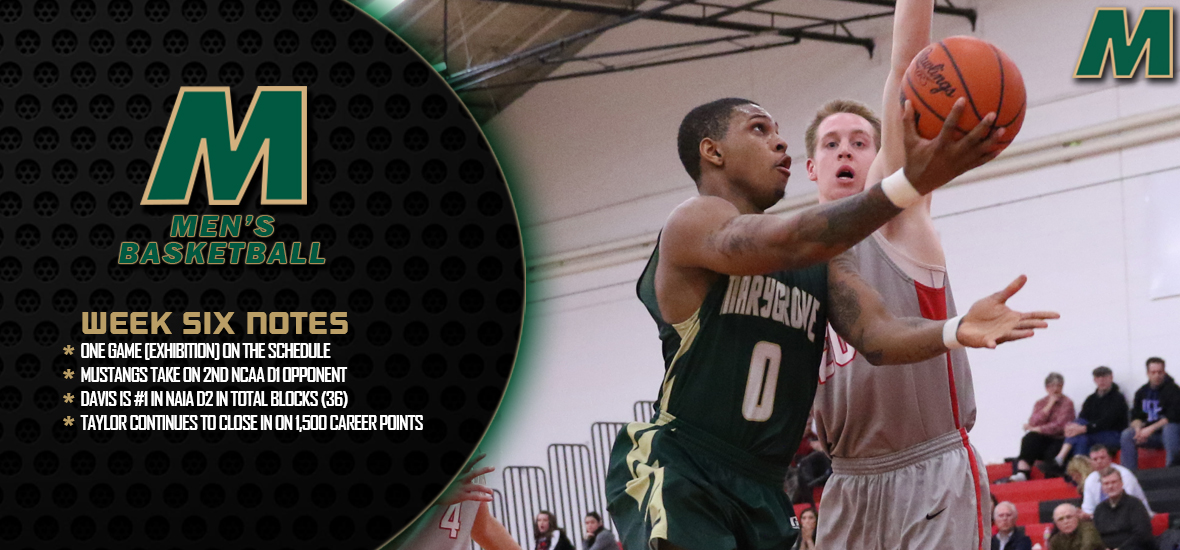 CLICK HERE FOR THE COMPLETE VERSION OF THE WEEK SIXÂ GAME NOTES (PDF)
SATURDAY, DECEMBER 12
Marygrove (1-11, 1-6Â WHAC) at Western Michigan University (4-5, 0-0 MAC) — EXHIBITION
Time: 4:30Â p.m.
Location: Game played at WMU's University Arena — Kalamazoo, Mich.
Coverage: ESPN3 | Live Audio | Live Stats
BY THE NUMBERS
4:Â Averaging 70.8 points per game, the Mustangs boast one of the more balanced offenses in the WHAC with four (4) players posting 10-or-more points per contest. Diante Taylor leads with way at 11.9 per game, followed by Ta'Kein Dixson (10.8), Elijah Ingram (10.8) and Kenneth Miller (10.3).
6: Diante Taylor and sophomore center Sirafino Davis lead the way on the glass for an otherwise undersized Mustangs squad as the only two members of the team averaging six (6) or more rebounds per game. Taylor checks in at 7.1 boards per game while Davis pulls down six per outing.
1:Â Sirafino Davis enters the week as one of the top shot blockers in the NAIA with 36 swats through 12 games. Davis' defensive effort has positioned the 6-9 sophomore in a tie for first (1) in NAIA Division II total blocks with 36. The sophomore's efforts are featured in the infographic below.
MUSTANG REWIND
Improvement was there, but the Mustangs fell to 1-11 overall and 1-6 in Wolverine-Hoosier Athletic Conference (WHAC) play with a pair of losses on Nov. 27-28 at the Lindsey Wilson (Ky.) Classic and a road league setback at Lawrence Tech on Dec. 2. Tyler Sykes (Sterling Heights, Mich./Stevenson High School) led all Mustangs at Lawrence Tech with 13 points on 6-of-12 shooting.
EXHIBITION FOR THE MUSTANGS
The Mustangs will play the second of two scheduled exhibition tilts this season on Saturday (Dec. 12) on the road at Western Michigan University. Eastern Michigan was the first exhibition for third-year head coach Craig Covington's Mustangs this season (Nov. 25).
SCOUTING THE BRONCOS
The Broncos of Western Michigan enter Saturday's contest with a 4-5 record, led by Tucker Haymond and Thomas Wilder at 16.8 and 15.9 points per game, respectively. The Broncos hold opponents to 70.9 points per game.
MORE "MACTION" AHEAD!
Saturday's exhibition at NCAA Division I Western Michigan (WMU) Â continues the Mustangs recent trend of facing Mid-American Conference (MAC) teams every season. The Mustangs lone matchup with WMU came in an 85-40 loss on Nov. 13, 2012 in Kalamazoo.
DID YOU KNOW?
The Mustangs rank 48th in NAIA Division II and fourth in the WHAC in offensive rebounds per game with 12.5 per contest through 12 games.
TAYLOR CLOSES IN ON 1,500
Senior guard Diante Taylor is close to putting a cap on a stellar four-year career as a Mustang – a journey that will likely end in Taylor becoming the third member of the Mustangs' 1,500-point club. Taylor is only 71 away from 1,500, entering the week with 1,429 career points. Taylor will need to average 16 points per game the rest of the way to break Marcus Hopkins' program record of 1,716 career points.
 
MUSTANGS LOSE DIXSON
Head coach Craig Covington and the Mustangs lost a key piece to the roster when it was announced sophomore guard Ta'Kein Dixson suffered a season-ending injury on Nov. 25. Dixson was one of four Mustangs averaging 10 or more points on the season.
A LOOK AHEAD
The Mustangs wrap up the 2015 calendar with a trio of road games following the exhibition at Western Michigan. The Mustangs visit NCAA Division II University of Findlay on Dec. 19 before a pair of NAIA games Dec. 29-30.
THIS WEEK IN MUSTANG HISTORY
On Dec. 13, 2014, the Mustangs invaded Southfield, Mich. to take on the Lawrence Tech Blue Devils in conference action. The Mustangs cruised to a 79-53 victory behind a game-high 23 points from senior guard Darryll Dixon and a 46-point second-half effort.
THE MUSTANG SPORTS NETWORK
Watch all home games via live video on marygrovemustangs.com/live – your home for in-game coverage with Jeremy Otto and Brendan Johnson on the call.
INFOGRAPHIC OF THE WEEK — DAVIS ATOP NAIA D2 IN BLOCKS
MUSTANG WEEKLY — DECEMBER 7-12
STAY CONNECTED: Facebook | Twitter | Instagram | YouTube
BE THE FIRST TO KNOW:Â Text & Email Alerts
DOWNLOAD OUR APPS:Â iOS (iPhone/iPad)Â |Â Android
MEN'S BASKETBALL CONTACT: Tim Johnston | [email protected]/* */ | @tjohnston56
MARYGROVE BROADCASTS:Â The Mustang Sports Network (MSN)Â |Â MSN Twitter
MEN'S BASKETBALL:Â Twitter